As we begin a new year and celebrate everything Benchmark has accomplished, it's remarkable to note that 2019 was our 40th year in business. As a premier innovation partner for our customers, we've always been laser-focused on developing solutions for their most complex challenges. Now it's time to look forward to the future of Benchmark!
Our Remarkable History
First, we'd like to take a moment to reflect on our rich history filled with exciting industry advancements, stellar employees and great memories. Few people know we didn't begin under the Benchmark name. We actually started as a manufacturing subsidiary of Intermedics in Clute, Texas and simply called Electronics, Inc. It wasn't until 1990 when we officially became known as Benchmark Electronics.
Since our beginning, Benchmark has succeeded in expanding our product and technology offerings along with building a family of talented, hard-working employees through a series of strategic acquisitions. Because of these strategic moves, we are able to offer increasingly innovative technology capabilities to serve the needs of the medical, commercial aerospace, defense, complex industrials, semiconductor capital equipment, next-gen communications, and advanced computing and data center markets.
Not only did these acquisitions bring us more advanced capabilities, they also helped us to expand globally. We're proud to say we now have 27 locations across the Americas, Europe, and Asia, and we fully recognize our success is directly related to the dedication and performance of our employees. By having a global presence, we're able to deliver the highest level of services and solutions wherever our valued customers need them. We've strategically located design engineering centers of innovation in each of our three key regions and full precision mechanical manufacturing capabilities in both the Americas and Asia.
With these continued investments and growth, we also coined the term "When it Matters," because here at Benchmark, we serve customers in highly regulated, complex technology environments where equipment cannot fail. We take pride in providing the highest quality solutions, which go above and beyond to meet the needs of companies building mission-critical products that save lives, protect soldiers and keep factories, networks and communications operating.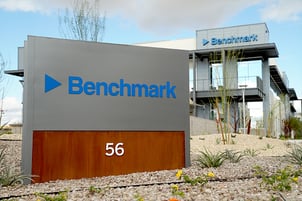 Benchmark has achieved some major milestones over the last two years alone. In 2017, we made the bold decision to move our headquarters from Texas to Arizona. We broke ground on our new headquarters in Tempe and we officially called the new building home in January of 2019. Arizona has been good to us. We enjoy innovative partnerships with the state's universities, access to incredible talent, and a business-friendly environment, not to mention the sunny climate.
Our Bright Future
Looking ahead to 2020 and beyond, Benchmark is focused on industry advances and how we can help our customers achieve their innovation goals. Forty years in business has taught us the most important thing in technology is being prepared with solutions that let our customers achieve their goals. This idea is what will drive our growth strategy over our next 40 years.
In recent years, we've significantly upgraded our brand, technology building blocks and capabilities with a transition from a business model focused on contract manufacturing to a design, technology and solutions provider with world-class manufacturing services. With this change, Benchmark has been successful in serving more diverse customers with the most demanding use-cases because of the unique skills and services we've added to make Benchmark a "one-stop" solutions provider.
We're preparing for the future by continuing to invest in new capabilities to meet the needs of our customers in this ever-evolving technological ecosystem. In recent years, we added two industry-leading brands through acquisitions - Benchmark Lark Technology and Benchmark Secure Technology. The advanced capabilities of these brands have allowed Benchmark to serve customers who are looking towards the future of medical, industrial, next-gen communications, aerospace & defense, and advanced computing applications. We've gained expertise that allows us to overcome challenges facing the technologies of tomorrow, such as 5G, Industry 4.0, advanced military communications systems, and connected devices. Every acquisition and investment we make is focused on solving problems to enable revolutionary new technology for our market-leading customers.
Benchmark's "one-stop" solution offering pairs broad design engineering, innovative technology solutions and advanced manufacturing capabilities with a complete product lifecycle management solution that improves speed-to-market of technologically-advanced products with exceptional market longevity. The integration of all of these services helps our customers manage the many risks that come with launching a new, innovative product.
Our global expansion has also been a forward-thinking endeavor. As the global economy evolves, it can cause significant disruptions to our customers. From the China trade war to the new NAFTA, the uncertainty surrounding these events is a critical factor in the efficiency of the product development and manufacturing process. Benchmark has built up a global presence of manufacturing facilities, coupled with a robust supply chain, to increase agility in the decision making process as the global economy shifts.
We celebrated a major milestone in 2019 and look forward to our next 40 years as the innovation partner of choice. For more information on how we can transform your business's technology solutions, contact us to learn more.