If you go to the Benchmark website or visit a trade show booth right now, one thing you'll have a hard time missing is our tagline "When it Matters," which is proudly proclaimed throughout. It's a phrase we coined, but what does it really mean? Is it just marketing jargon, or is there a deeper connotation behind it? This blog serves as an explanation of the phrase, as well as the ways we back it up.
To tell this story, you'll need to be familiar with the types of industries that Benchmark works with on a daily basis; there are quite a few: commercial aerospace, defense, computing & data center, next generation telecommunications, industrial, medical, and semiconductor capital equipment.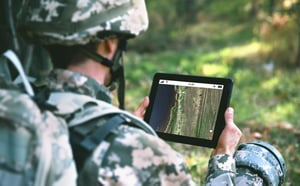 As you can imagine by their very nature, these industries require mission-critical solutions with zero margin for error. Many of our customers need help or extra innovation for products that save lives or protect the men and women serving in the military. That may be in the form of wearable medical technology that monitors vital signs, or encrypted communication devices that keep our soldiers' messages and audio out of enemy's hands.
These complex solutions need to be designed, engineered and manufactured to the highest level of quality, and that's where Benchmark excels. When it Matters.
As the saying goes, we "eat, think and breathe" complexity and work with customers to bring their product visions to life quickly and profitably. We tackle the technology challenges that cannot fail and deliver high-quality solutions at scale.
Our CEO Jeff Benck explains it well:
"Benchmark redefines what's possible with innovative product design, engineering, technology building blocks and advanced manufacturing matched by an obsessive attention to detail–from idea to realization. When trust, reliability and outright ingenuity matter, that's when Benchmark matters most." - Jeff Benck
Another aspect of the phrase "When it Matters" we take to heart is our customer's relationships with their products. These aren't your everyday widgets; they are pieces of technology that are the most important thing in our customer's lives when they engage with us. In this context, "When it Matters" means that anytime a customer calls, we're there to pick up the phone, listen and match their passion during the product development process, all the way through manufacturing.
No matter how complex or how critical these technologies are, Benchmark has the right people and a wide variety of innovative capabilities to provide high-quality solutions. We've made key investments designed to meet every imaginable need, and bring our own ideas and intellectual property to the discussion.
"When it Matters," is not only about the products we help design or manufacture that have to work right the first time, every time, while still being profitable, it's about the people we work with and our promise that Benchmark is the right long-term partner to continue with down the innovation roadmap.
So, the next time you see our tagline, we hope you'll remember what it means, and why it matters!