Industry 4.0 is a buzzword that gets thrown around in meetings and conferences when talking about the next generation of the connected world or discussions involving 5G capabilities. But what does this phrase mean to our customers? And what does a factory outfitted with Industry 4.0 connectivity look like?
Industry 4.0 involves the process of connecting various machines, smart and conventional, to the cloud with sensors to create a powerful sensor network. The industry 4.0 network will be fast and stable enough to relay data to people or other machines in real time, with nearly zero latency. This data is rapidly turned into insight such as information on which processes can be automated, and which machines are close to failing or need repair. But what it really means is the factory is a more holistic and better-connected ecosystem for companies focusing on manufacturing and supply chain management.
This process is already starting to happen in factories using current 4G networks, LoRA, wi-fi, and other connectivity types. However, all of these options pose limitations in network speeds and reliability that are a barrier to a fully realized connected factory. 5G will revolutionize factories because it will enable businesses to access much more data and apply it to the communication and automation of industrial machines and systems through IoT on a massive scale. Industry 4.0 factories will run more efficiently with significantly less downtime, allowing companies to greatly enhance the speed at which products are brought to market.
Industry 4.0 and Robotics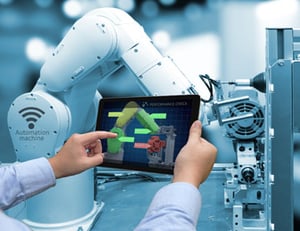 The factory of tomorrow, outfitted with Industry 4.0 technology, will also include the next generation of autonomous robotics. These autonomous robots will be connected to the same networks as industrial machinery, and will be deployed as needed to conduct repairs, restock shelves and even clean the floors—think large, industrial Roombas! With insights from the data gathered from the factory's sensor network, in combination with machine learning, the process of robot deployment will be automated and seamless.
Benchmark is uniquely prepared for this next generation of the connected world. Our advanced capabilities allow us to create devices, sensor networks and embedded gateways to connect critical machinery through IoT. We have expertise in technologies critical to 5G including millimeter wave, photonics, free space optics, microwave arrays, heats sinks and lightweight components for satellites.
Due to our obsessive focus on solving complex problems, Benchmark is always redefining what's possible. Our Design Centers of Innovation in Arizona, Minnesota and The Netherlands, are continually developing IoT architecture to facilitate the connected world. We're a global company with more than 300 engineers, each with distinct expertise which allow us to understand our customer needs and make them a reality—from design and prototype, all the way through manufacturing.
All of these capabilities and expertise allow Benchmark to understand and develop the connected factories of tomorrow.