Economists largely agree that trade wars aren't easy to win and that China and the U.S. might be in for a long fight. President Trump recently announced on Twitter that a list of items that were previously tariffed at 10%, are now increased to 25%. Additionally, the U.S. Trade Representative released "list 4", which includes clothing, shoes, child safety seats, and cell phones, also intended to be tariffed at 25%.
The former vice-minister at China's Ministry of Commerce, Wei Jianguo, expressed that China is preparing for a long, drawn-out trade war, stating "China will not only act as a Kung Fu master in response to U.S. tricks, but also as an experienced boxer and can deliver a deadly punch at the end."
As this trade war with China continues to heat up with no immediate end in sight, many OEM leaders are left feeling unsure about the future of their manufacturing operations.
Benchmark is uniquely positioned to address these concerns with current and future customers. Our global network of manufacturing facilities allows us to identify opportunities where it makes sense to keep manufacturing operations in China or move operations to other countries in Asia, or even back to the U.S. In fact, a group of Bank of America Merrill Lynch analysts recently wrote a report about the top six EMS companies' global footprint titled, "Taking a look at EMS company footprints. Can manufacturing move back to the U.S.?". The analysts asserted that manufacturing might be moving back to the U.S., and Benchmark was recognized as having the largest U.S. footprint with 39% of our manufacturing facilities located on shore, and the smallest Chinese footprint at 8.1%.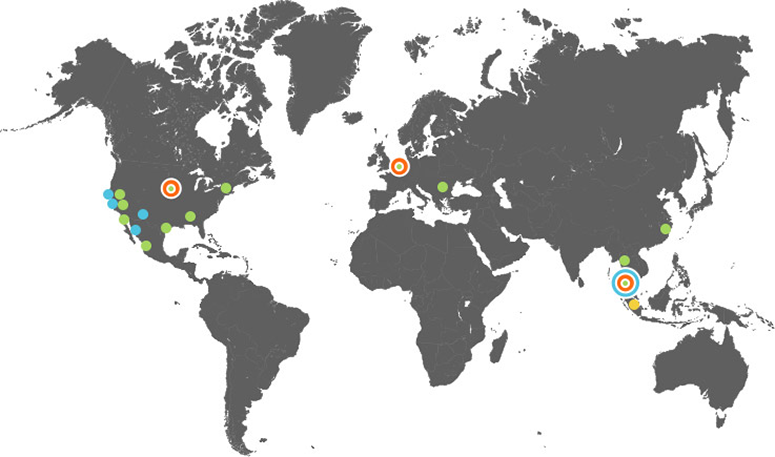 Figure 1 - Benchmark's global reach
Benchmark has capacity in other low-cost areas as well and has proactively worked with customers to move production out of China to mitigate tariff costs if necessary. We are well-prepared to support customers that need to move product from Chinese sources to our manufacturing locations in Malaysia, Thailand and Mexico, or to keep manufacturing in China for Chinese customers and other global destinations not impacted by the U.S. tariffs.
In addition, one of the biggest concerns of OEMs is the skyrocketing price of raw materials. Benchmark is currently working closely with our suppliers and customers to mitigate the tariffs by providing sourcing of alternative raw materials and finished products from outside of China. We are also working with customers to ensure they understand how tariffs impact their products and provide solutions to mitigate these costs.
Our global supply chain, as well as our industry-leading material sourcing process, allows us to identify a number of cost mitigation activities, which include:
Review of component approved sources and the Country of Origin for each source. Based on material availability, we will place orders with sources not impacted by the tariffs.
Identify alternate sources of supply and work with our customers to approve these sources when it is commercially reasonable to change them.
Evaluate the implementation and use of Foreign Trade Zones and Duty Drawback to reduce the new tariff impact.
The uncertainty surrounding the U.S. trade war with China is going to create manufacturing hurdles in the long and short-term. OEMs must prepare to address these challenges and develop a plan to change manufacturing partners if necessary. With our global supply chain that can help customers circumvent these tariffs and mitigate costs without disrupting speed to market, Benchmark is uniquely positioned to help our customers minimize risks to their operations.
With one eye sharply focused on the U.S.-China trade war, we also remain aware of the tensions building between the U.S. and Mexico. If the U.S. enacts tariffs on goods imported from Mexico, we will see North American supply chains adopt a more cost-effective model. With Benchmark's global manufacturing footprint, we have the flexibility to react quickly and find the best overall solution for our customers.
To learn more about Benchmark's global support community,
please visit www.bench.com/worldwide-locations.