Although the defense industry is still the largest and most mature market for drone sales worldwide, recreational and consumer drones are growing in popularity. In fact, according to Goldman Sachs Research, there were approximately 8 million consumer drone global shipments in 2020 amounting to roughly $40 billion (USD) in sales.
Estimated Drone Spending FY2017-21 (USD)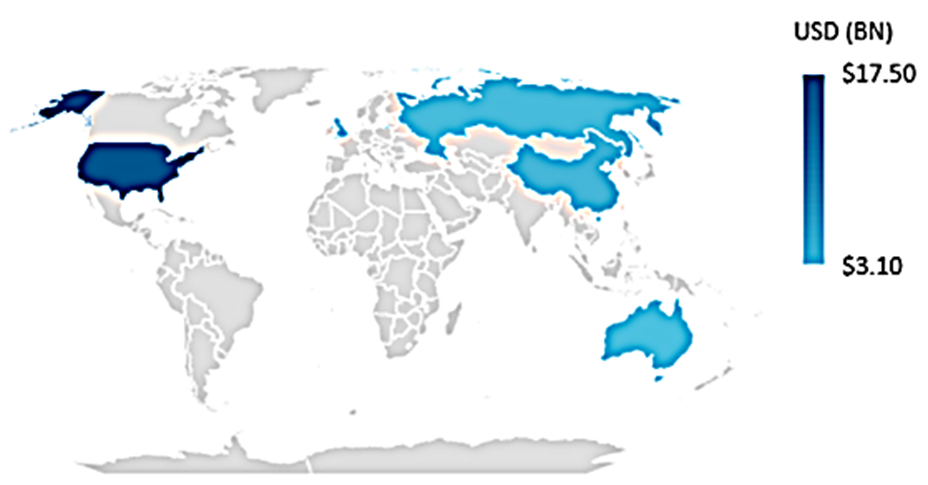 Data Source: DoD, Government of the UK, SIPRI, Defense News, Goldman Sachs Research
why your engineering and manufacturing partner matters
It is widely accepted that DJI corners the market in global drone sales. And although estimates vary in how much of the addressable market the company controls, the differences in those estimations are negligible, settling at roughly 75% of all global sales. To put this into greater perspective, of the approximately 8 million drones sold on the global stage in 2020, roughly 6 million were likely sold by DJI.
Unfortunately, drones developed for the recreational and commercial markets can be easily adapted for unauthorized surveillance or even used to deliver dangerous payloads. Consequently, considerable measures should be taken to mitigate any potential harm these systems pose to public safety and national security. For this reason, many drone manufacturers—as well as the market as a whole—are actively partnering with engineering and manufacturing experts to help develop counter-UAS (unmanned aerial system) technology capable of detecting, identifying, and possibly neutralizing potential UAS threats.
increasing competition within the counter-uas market
UAS systems have been around for longer than most people realize. In fact, according to the world-renowned Imperial War Museums (IWM), the first true unmanned aerial vehicle (UAV)*—the Aerial Target—surfaced in Britain in 1917. One year later, the United States began testing its aerial torpedo known as the Kettering Bug. While neither UAV was actively deployed during World War 1 (WWI), this nascent technology certainly paved the way for future advancements in recreational, commercial, and military UAS applications.
Today, competition within the international UAS market is rapidly increasing, and along with it, an increased need for counter-UAS technology. Until recently, the Aeroscope (a comprehensive counter-UAS detection platform owned by DJI, the world's largest drone manufacturer based in China) was arguably "the" technology to beat. However, as of March 2023, the company suddenly discontinued the Aeroscope, providing competitors with an opportunity to fill the gap—but that is a lot easier said than done.
counter-uas challenges facing drone manufacturers
As drone manufacturers seize the opportunity to expand their market share in the wake of Aeroscope's discontinuation, challenges ensue. For manufacturers of UAS technology made primarily for recreational or commercial use, RoboticsBiz (a self-proclaimed technology portal for global robotics research, artificial intelligence, and machine learning experts to collaborate) outlines a number of the challenges drone manufacturers face:
Detection Effectiveness
Some radar systems might be incapable of detecting small UAVs or UAVs flying in low altitude, increasing safety concerns.
False negatives and false positives
If the counter-UAS technology is too sensitive (or not sensitive enough), the risk for false positives or false negatives increases. While electro-optical (EO) and infrared (IR) sensors can detect drones based on their visual and heat signatures, if this technology is not paired with machine vision and artificial intelligence algorithms, the risk of false positives or false negatives again, increases. Additionally, if the counter-UAS technology is operating with limited detection ability, it will be extremely difficult to accurately distinguish a friendly UAS from a bad actor.
Response window
Counter-UAS technologies often only have seconds to decide on a proper response after detecting an unauthorized drone. Propulsion technology is also advancing, rendering even faster flying UAVs. In order for the counter-UAS to respond in enough time, their response window must considerably decrease.
Interdiction hazards
Whether the counter-UAS technology utilizes kinetic counter-drone measures or a net-based system, the potential danger to those on the ground cannot be overlooked. Interdiction elements must, therefore, be extremely precise and meticulously executed. Manufacturers must also consider long-range effectors such as lasers and high-powered microwaves that have the potential to interfere with aircraft flying above the drone. Jamming systems can also negatively interfere with airport controls or ground traffic management.
department of defense challenges
Adapting to Continuous Policy Changes
As noted in the DJI example above, for years, international commercial UAS technology was largely being driven by Chinese-led innovations. However, due to growing cybersecurity concerns, the United States Government began restricting the use of drones (and associated services and components) originating from China in 2017.
All of a sudden, the industry was faced with the monumental challenge of continuing to drive innovation forward without this dependency on China while simultaneously finding alternative sources for required UAS components, hardware, and software including flight controllers, radios, data transmission, cameras, gimbals, operating software, connectivity, robotics and autonomous systems, data storage, and more. Counter UAS systems, however, were not included.
With the sudden discontinuation of the Aeroscope, the counter-UAS industry is at a similar turning point. Counter-UAS innovators will likely need partnerships to quickly cover the full-range of hardware and software requirements. But all is not lost. A number of interesting UAS and counter-UAS technologies are surfacing in the United States and around the world.
There remains plenty of potential for growth in the domain of counter unmanned aerial systems.
In fact, according to Military Embedded Systems, "in fiscal year 2023, the DoD has allocated nearly $750 million for the procurement of solutions and counter-drone research and development. There remains plenty of potential for growth in the domain of counter unmanned aerial systems."1
rise above the competition with benchmark
With Aeroscope no longer on the playground, counter-UAS buyers from the recreational, commercial, and military arenas will all be eagerly looking for viable alternatives. After all, as UAS technology increases so does the threat landscape at airports, prisons, stadiums, critical infrastructure facilities (ex. highways, railways, bridges, tunnels, etc.), large public spaces, military installations, battlefields, and more. Finding an engineering and manufacturing partner with expertise in the design, development, and manufacture of advanced sensors, optics, microwave systems, data storage, supply chain resources, and smart part selection processes is key. It is also likely that rising government concerns with national security could evolve into stricter regulations and/or incentives to design and manufacture counter-UAS technology within the geographies you are planning to market your products. Working with a partner that understands multiple geographies, therefore, would only strengthen your ability to rise above the competition.
Product realization
Benchmark's extensive engineering and manufacturing experience and expertise will help you meet this fast upswing in market demand in both scale and time to market.
Benchmark's product realization solutions exemplify our 40-year legacy as the partner of choice for specialized design, engineering, manufacturing, and post-production services. From new product introduction (NPI) to after-market support, our global engineering and manufacturing teams collaborate closely with you. We examine all aspects of your design well ahead of production, offer smart part selection, and share proven supply chain resources and strategies to help find alternatives to obsolete or hard to source components to help accelerate the time to market and scale production.
Whether your UAS product is a new concept or requires a redesign to meet the everchanging industry requirements, we work alongside your team of experts to provide additional insights and help lower costs. From mechanical, software, and electronic design to automation and test design, system integration, and manufacturing expertise, we collaborate closely with your team of experts to bring your product successfully to market.
specialized support for uas manufacturers
Looking for engineering and manufacturing support for recreational, commercial, or military-grade counter-UAS systems? Benchmark's unparalleled experience and expertise in designing and manufacturing components meets the highest commercial and military standards. Benchmark offers advanced technology support ranging from specialized optical sensors and integration for UAS detection, connected devices, mechatronics and robotics, missile guidance electronics, ruggedization, RF microwave systems (ex. to disrupt guidance systems), surveillance and threat detection, RF filters and components, photonics, and more.
global footprint
While some of our customers require design and manufacturing services within the United States, others require these same services abroad. Benchmark's global footprint extends across the Americas, Asia, and Europe offering commercial aerospace, defense, advanced computing, next-generation communications, and more. If you are looking for a partner that intimately understands multiple geographies, offers design for excellence (DFX), ongoing engineering support well after production, Benchmark is that partner.
When your counter-UAS design and production matters, turn to Benchmark.