In-vitro diagnostic (IVD) medical devices are quickly becoming vital tools used to diagnose and monitor disease or other conditions through the analysis of biological samples. The COVID-19 pandemic, an increased demand for point-of-care (POC) testing, an aging global population, and a rise in infectious diseases have all fueled dramatic growth in the IVD global market in recent years. In fact, the market's upward trajectory is expected to continue at a compound annual growth rate (CAGR) of 3.26% from 2022 to 2028.
The Growing Importance of IVD Medical Devices
Technological advances and consumer demand are guiding this growing industry towards smaller devices capable of analyzing low-volume samples more quickly and more accurately while at the same time integrating simpler interfaces. However, the development of these complex devices requires a skilled team with a broad range of expertise in microfluidics, electronics integration, and miniaturization principles and concepts in addition to design, engineering, and manufacturing capabilities. Medical devices must also meet the rigorous standards of regulatory compliance while remaining cost effective and manufacturable. For these reasons companies of varying sizes often find that assembling an in-house multidisciplinary team is challenging and expensive, leading many to turn to outsourcing to fill in knowledge and infrastructure gaps.
The trend within the IVD industry towards outsourcing automation solutions to specialist companies is continuing unabated.
According to Stratec Biomedical Systems (STRATEC), a global original electronic manufacturing (OEM) supplier for IVD instrumentation, consumables, software, and automation, "the trend within the IVD industry towards outsourcing automation solutions to specialist companies is continuing unabated."1 Recent corporate intelligence studies back up these claims, estimating that the medical device outsourcing market will experience a "growth rate of 12.1% over the forecast years (2022 – 2030)."2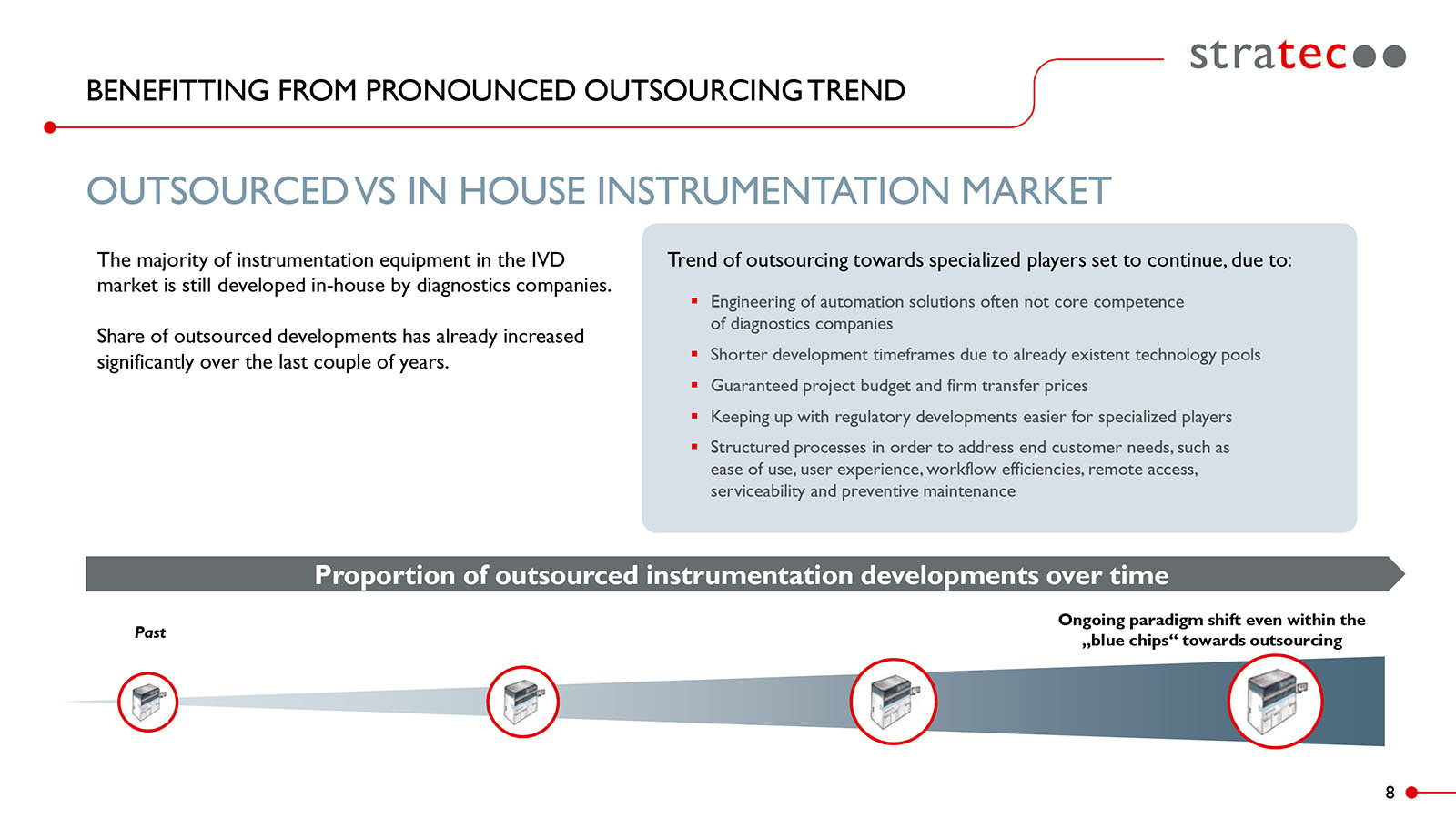 Data Source: STRATEC, p.8
Limitations to In-House IVD Development and Production
Diagnostics companies seeking to maintain a majority of IVD instrumentation development in-house may consider working with dedicated engineering and design firms on an ad-hoc basis. These companies provide a narrow scope of services and might initially appear to be an efficient and cost-effective option. After all, their solutions are targeted to the specific challenges that many projects face. However, product development is not done in a vacuum, and isolating key subtasks can introduce additional (and costly) problems that only emerge further down the development timeline. For example, an engineering team in isolation might specify materials that are expensive or difficult to source, leading to late-stage substitutions that in turn require additional testing and validation, causing delays in the market entry schedule. Design choices themselves might not prove compatible with other independently designed modules or might rely on complex designs that do not meet manufacturability requirements when scaling up. Furthermore, as compatibility issues are not identified until late in the development process, tooling costs along with manufacturing and development timelines can be deeply impacted.
In other words, every project has its own set of unique challenges. Choosing a partner with expertise and broad capabilities that span design, development, and manufacturing will help to mitigate challenges that arise in the realization lifecycle and keep your project moving forward. It is, therefore, often more advantageous to outsource your IVD projects to a trusted product realization partner with the appropriate expertise and experience.
Production Realization at Benchmark
At Benchmark, we offer an integrated approach to product realization, meeting you wherever you need us, from concept through to post-production. Should you require support at the conceptual stage, our Design for Excellence (DFX) process involves concurrent engineering, test development, process development, and supply chain development to ensure a smooth transition to production while maintaining momentum, minimizing risks, and keeping costs to a minimum. Part of this early-stage partnership also involves collaborative "Creative Workshops" and a microfluidics cartridge testing platform.
Creative Workshops
Innovative companies with intellectual property tied to their own cutting-edge research might already have a measurement principle and a promising concept but still lack the development and manufacturing experience to bring their product to life. Demonstrating creativity and capability in a laboratory setting is just the beginning. Defining a comprehensive development plan early in the process provides a high-level overview of the project, identifies appropriate next steps, and helps isolate the greatest challenges at a point when they can be addressed without impact. A well-thought-out development strategy helps project teams proceed with more confidence, anticipating issues and planning the allocation of resources accordingly.
That is why Benchmark kickstarts cooperation with a Creative Workshop that brings together our customer's technical experts and Benchmark's multi-disciplinary team. Over the course of a few days, the collaborative design session focuses on building actionable solutions for our customers' product development and production challenges. There are four types of Creative Workshop sessions to address challenges anywhere in the product lifecycle – ideation, development, commercialization, or production. Leveraging a broad range of expertise in this type of structured but unrestricted environment can enhance a product's success.
Microfluidic Cartridge Testing Platform
The integration of microfluidic technology is often challenging in IVD development. Microfluidics systems manipulate small samples of fluid at a microscale for IVD devices and lab-on-a-chip (LOC) applications including diagnostics, drug delivery, and personalized drug therapy. To ensure the analysis is accurate and precise, fluid, gas, and electrical connections between the microfluidic device and analysis device must be reliably formed. The sensitive signals produced by these devices require finely tuned micro-macro connections—expensive and time-consuming undertakings that require considerable testing and validation.
Standardizing these connections accelerates the development process and gets innovative equipment into the hands of clinicians and patients quicker. Benchmark is, therefore, developing a foundational microfluidic cartridge testing platform that facilitates multiple fluid, gas, and electrical connections between chip and device, ultimately leading to decreased development costs and accelerated speed to market.
Benchmark — Optimizing Your IVD Products
The end goal of development for any company is a profitable and valuable commercial product. For companies developing potentially lifesaving IVD products, however, finding a reliable partner in the development and production of their IVD devices is critical to their overall success. But a working IVD prototype requires more than just manufacturing infrastructure to ramp up to mass-production efficiently and effectively. Site location, access to skilled personnel, regulatory knowledge, supply chain expertise, and logistics capabilities are all critical factors to consider when selecting an engineering and manufacturing partner.
Benchmark helps companies grow by leveraging more than four decades of medical device solutions and hundreds of successful relationships. With extensive expertise in engineering and manufacturing process design, Benchmark can help optimize your IVD products for maximum reliability and manufacturability. Further, our global footprint offers regional manufacturing advantages to streamline commercialization and lower supply and distribution costs.
Benchmark's 40+ years of expertise in medical device solutions, our broad range of internal services, our outstanding industry and supply chain relationships, and our innovative standardization solutions will translate to a more efficient and cost-effective process for getting your vital IVD products to market.
When IVD design and development matter, turn to Benchmark.