Welcome to our new blog series, "Get to Know a Benchmark Site." This series will introduce all of Benchmark's 26 global locations. Next up: Benchmark Precision Technologies Tempe, Arizona.
A New Model for Innovation in High-Speed and RF systems
Benchmark Phoenix is a unique site that utilizes a greenfield approach to electronics development that is dedicated to bringing cutting-edge, high-reliability electronics from idea to reality. Our vision is to work alongside our customers' experts to build innovative technology that no one thought was possible. This kind of collaboration, in conjunction with the state-of-the-industry design, assembly, and test capabilities on-site, fosters new solutions to size, weight, and power trade-offs, as well as RF performance up to 110 GHz.
Our culture emphasizes taking on the toughest technology challenges. When a customer tells us a specific design challenge is insurmountable, or a design can't be built, the entire team gets motivated to prove them wrong. There's a kind of optimistic defiance here. We are confident in our abilities, and know what it takes to succeed.
To achieve these lofty goals, Benchmark Phoenix integrates design engineering, microelectronics assembly, surface mount technology (SMT) assembly, system integration, functional test, and aftermarket services. Together, this creates a one-partner solution for aerospace, defense, next-gen communications, advanced computing, and complex industrial products.
Benchmark Phoenix is home to Benchmark Lark Technology's RF and High Speed Design Center of Innovation. This center offers expert engineering and advanced manufacturing processes that expand design options for high-speed and RF design challenges. Lark also brings 30+ years' experience in the development and manufacturing of cutting-edge RF technologies and advanced RF component designs that Benchmark customers integrate into their products.
How Do We Do It?
The equipment in the facility is state-of-the-industry, but a few key pieces, like the double-sided "lights out" SMT line, are particularly unique. The SMT line design incorporates factory 4.0 smart automation, Automated Optical Inspection, two-sided assembly, and several other technologies that allow for lights-out production of very complex PCBs.
Even with some of the industry's best equipment, our people are our most valuable resource. Anyone can buy good machines, but finding and cultivating talent requires commitment. Site leadership believes that being flexible is essential when employees are giving their all. There are training programs with local community colleges to make more technical positions available to those who start in logistics roles. We work with Arizona State University and Grand Canyon University on student projects and internships, always cultivating the next generation of engineering talent in Arizona. We have hired many of these talented young engineers.
The Proof is in the Results
Although Benchmark Phoenix is new, we have already worked with several customers to design and build innovative products. We helped one innovative aerospace company to address challenges in building sophisticated new satellites and built critical sub-systems. We collaborated with several defense companies to solve high-frequency RF and SWaP-C challenges in microelectronic and hybrid assemblies. We have also designed and fabricated RF bandpass filters for 5G millimeter wave frequencies (around 28 GHz) for telecommunications leaders.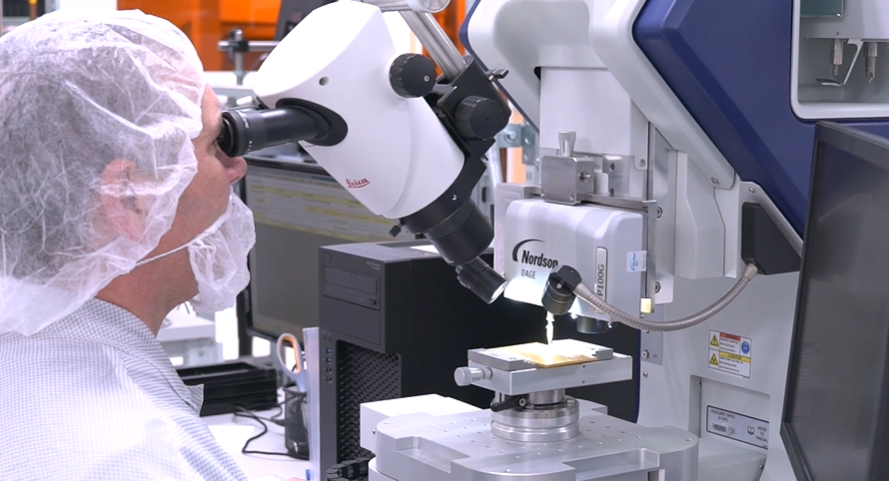 Today's grand opening of Benchmark Phoenix is an important day for all us, marking the transition from vision to reality of this unique facility. Implementation of this vision is two years in the making, and we couldn't be prouder of the result. We look forward to sharing it with our customers now and in the future!
Want to learn how Benchmark Phoenix can help you innovate and get to market faster? Contact us today!