Failure is not an option for the Benchmark - Moorpark, California site, which specializes in high-reliability commercial aerospace and defense products designed for the most extreme and hazardous environments. We've manufactured parts for the 2003 Mars rovers and have built circuit boards for satellites currently in orbit. This specialized focus allows us to develop radar systems, weapons systems, avionics, and other A&D specializations.
Located approximately 40 miles northwest of Los Angeles in Ventura County, the Moorpark facility was opened in 1986 by an engineering design company that also offered manufacturing services. The facility officially joined the Benchmark family in 2013. The Southern California location provides proximity to system development hubs of established A&D primes and disruptive newcomers, making it an excellent choice for New Product Introduction (NPI).
Our expertise
The Moorpark location offers a wide range of capabilities, including high-end PCB assembly and test, precision electromechanical assembly, system integration, wire harness assemblies, and flex circuit assembly and test.
Within these services, we have invested in capital equipment and skills specific to advanced A&D applications. For example, Moorpark has a capability cluster around high-reliability digital, analog, and RF systems, including tin whisker integration, XRF testing, and board and system-level functional test above 5 GHz. Conformal coating and environmental stress, shock, and vibration testing are done on-site, addressing common defense requirements.
We hold several critical certifications and registrations aimed at serving customers in aerospace and defense. These certifications include ISO 9001, AS 9100, ISO 14001, ITAR-registered, and ANSI ESD S20.20. Our team has decades of experience developing manufacturing processes to build to strict military standards.
The combination of prototyping and NPI skills with certifications and standards experience makes Moorpark ideal for design certification activities. Our customers rely on the Moorpark team to help them correct any identified shortcomings and get the product certified and ready for the field quickly.
Solutions-focused Team
A long-time customer recently told us that what sets the Moorpark team apart is that we always come to the table with solutions, while other partners seem to only present problems. We work with some of the most advanced and complex manufacturing applications, and challenges are inevitable. Our experts have the training and experience required to develop solutions. Our goal is to deliver value through our problem-solving and on-time delivery, regardless of the challenges that may come up.
One recent example that comes to mind was a customer set to start manufacturing at the start of the pandemic. The original plan was for the customer to travel to our facility and spend an extended amount of time educating our team on their manufacturing and supply chain. But due to travel restrictions, this was not possible. Through ingenuity and many video calls, our team learned all the ins and outs of the product and started production on schedule.
When a customer's product demands design engineering or test development, we leverage Benchmark's extended network of U.S.-based, ITAR-registered locations to provide solutions. Benchmark Secure Technology, located nearby in Santa Ana, California, is our defense communications and system integration solution provider. Having this resource in our backyard helps us reduce program risk for our customers. In addition, our network of manufacturing sites offers our customers efficient scalability to higher volumes.
Building our team from within
We have over 250 employees at Moorpark and many managers who have worked in this facility for more than twenty years. We also have customers who have been working with us long before we were an official Benchmark facility, and we have deep knowledge of their products and history. We are committed to promoting from within and ensuring our staff is continually challenged and motivated. Each month, we recognize an outstanding team member and reward the team for going above and beyond.
We are a diverse group and include many employees who emigrated from other countries and did not have access to a traditional university program. To foster continuous education, we launched a program to assist employees in getting their GED, which Benchmark fully funded. The program was successful and pre-pandemic; we had 15 employees enrolled.
Our commitment to giving back
The team at Moorpark has always been passionate about giving back to the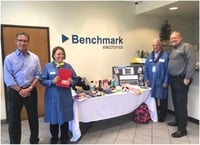 community. During the COVID-19 pandemic, our team partnered with a local shelter that provided housing for homeless families and hosted a toy drive. We also partnered with a local Ventura county food bank and collected over 500 cans to help feed those affected by the pandemic.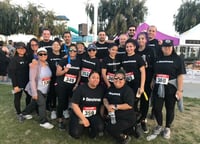 Pre-pandemic, we hosted an annual bake sale to raise money for breast cancer awareness and participated in the Ventura County Corporate Games to encourage health and wellness among our employees and the community.
The Moorpark location stands out because our highly experienced, solutions-focused team is willing to do whatever it takes to ensure a successful customer engagement with Benchmark. To learn more about Benchmark's Moorpark location and what makes this team unique, contact us today.