Welcome to our blog series on Benchmark's Centers of Excellence. These centers embody our commitment to excellence, focusing on their expertise, resources, and certifications in key technologies. Our Centers of Excellence represent the pinnacle of technical competence, delivering the best solutions to our customers. In this series, we explore the global facilities that comprise our Centers of Excellence, highlighting their specialized areas of expertise. Our first article focuses on our Almelo facility in the Netherlands, renowned for its design, test, and manufacturing proficiency for fluid management. Benchmark Almelo provides cutting-edge fluidics solutions and serves as a thought leader within the global Benchmark network.
Fluid Management – A Key Discipline for our Customers in the Medical Industry
Benchmark Almelo is a world-class facility that has recently undergone extensive renovations to enhance its advanced technology and expand capabilities. With over 210 design and development specialists, our site excels in medical, complex industrials, semiconductor capital equipment, and avionics. Our expertise in fluid management, particularly in the medical industry, is highly regarded based on our support of several advanced systems.
The growing demand for fluid management systems (e.g. lab-on-chip technologies and point-of-care medical devices) is increasing for several reasons, including the need for smaller product footprints, advancements in medical treatments, the rise in chronic diseases, and the requirement for faster diagnoses, cost efficiency, and personalized care. The microfluidics subsector alone is expected to reach $71.8 billion by 2030, according to Grand View Research. As the industry matures, challenges arise in meeting manufacturing volume, cost efficiencies, and time to market. In response, more medical device manufacturers are turning to Benchmark. As a Center of Excellence for Fluid Management, Almelo remains at the forefront of industry trends. We comprehend the regulatory challenges in this field and possess the necessary experience and expertise to enhance your products while expediting time to market. From concept to sustaining services, Benchmark Almelo is committed to meeting our customer's unique needs.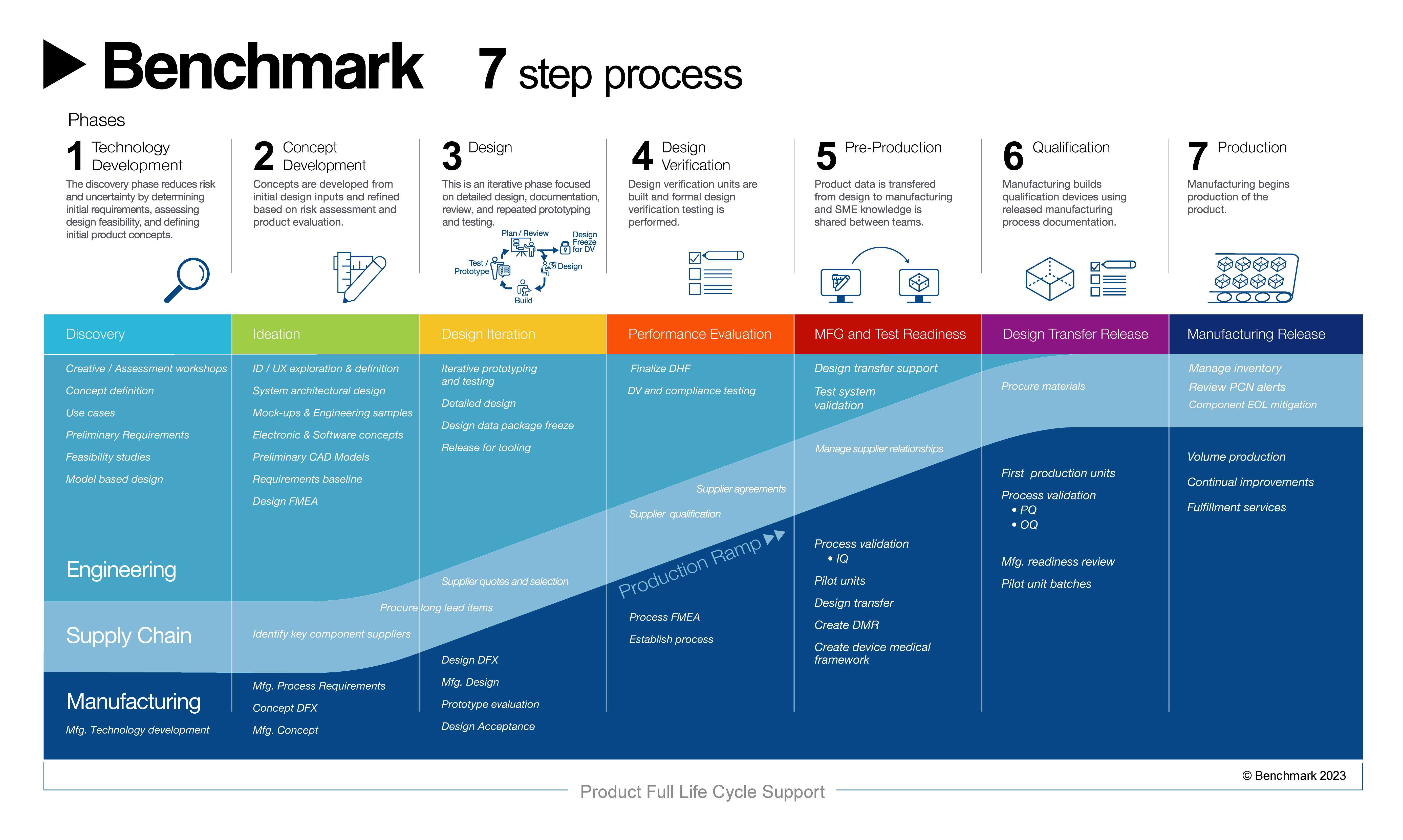 Full Product Realization Support
Collaboration and innovation across disciplines are highly valued at Benchmark Almelo. We provide comprehensive solutions throughout the entire product realization process, encompassing design engineering, an extensive suite of test services, supply chain management, manufacturing, and sustaining engineering with aftermarket support. We hold the necessary certifications to ensure superior quality and compliance, including ISO 9001:2015, ISO 14001:2015, ISO 13485:2016, AS9100:2016, ITAR, and ASNI ESD S20.20-2014. Moreover, we are well-versed in designing and verifying products that comply with IEC60601 and IEC61010 standards, which are essential to the performance of medical electrical equipment..
Fluid management is a rapidly growing field within the medical technology sector, driven by its quick diagnostic capabilities, ease of use, and potential for accelerating point-of-care devices. To meet this increasing demand, Benchmark Almelo has assembled an exceptional team and has invested in critical technologies, positioning our site as a premier partner for fluid management device design engineering, testing, and manufacturing. Our expertise in fluid management, along with our extensive capabilities, technologies, and infrastructure, support various applications in this domain.
As a Center of Excellence, Almelo serves as a thought leader on fluid management within the Benchmark medical engineering and manufacturing network. Almelo collects and disseminates best practices and experience from our medical sites in Asia, North America, and Brasov, Romania to ensure that Benchmark's expertise in fluid management is available to customers at any medical site. In particular, the relationship with Benchmark's Center of Excellence for Medical Devices in Rochester and Winona, Minnesota, offers customers a robust option to develop and launch products on either continent.
For more information on our capabilities, we encourage you to visit our Center of Excellence for Fluid Management webpage. Bart Evers, General Manager at Benchmark Almelo, emphasizes our commitment to excellence in fluid management device development, stating, "Benchmark Almelo has curated an outstanding team and has invested in critical technology aimed at making our facility a top-tier partner for fluid management device design engineering, test, and manufacturing."
Trusted Partner in Fluid Management Design, Test, and Manufacturing
Our expertise in fluid management encompasses various platforms, including fluid management instruments and microfluidics cartridges with a focus on critical areas such as drug delivery, rapid diagnostics, dialysis, ventilation, and therapies in collaboration with our customers. 
DNANudge presented us with a significant challenge during the COVID-19 pandemic. They required high-volume manufacturing of a consumer-grade 'lab-in-box' COVID-19 testing system. This system combined advancements in biochemistry, microfluidics, electronic circuits, and miniaturization to analyze DNA within an hour. With a substantial order from the U.K. Government, DnaNudge needed 5.8 million tests and 5,000 devices to supply all U.K. hospitals. Leveraging our manufacturing and design expertise, we worked closely with DnaNudge to industrialize the NudgeBox, overcoming supply chain constraints and engineering complexities to meet the demand for testing devices. 
Microfluidic systems and cartridges are another area where Benchmark has extensive experience. This technology, which studies fluid behavior in micro-channels and manufactures micro-miniaturized devices, is driving advancements in point-of-care systems and miniaturization within the medical industry. Microfluidic LOC technologies, used in diagnostics, drug delivery, and therapy applications, are particularly desirable due to their requirement for small blood samples. While the initial investment and development process can be costly and time-consuming, consistency in the core elements of LOC devices is crucial. Microfluidic cartridges pose challenges in chip design, seal integrity, and prevention of contamination. 
To simplify, improve affordability, and enhance speed in analysis, we have recently prototyped a multipurpose microfluidic cartridge testing platform. This platform facilitates fluid, gas, and electrical connections between the chip and devices. Extensive effort and research were dedicated to designing the cartridge architecture, microfluidic interface, connector architecture, and electrical interface. Rigorous testing ensured seal integrity, platform endurance, and pressure requirements. Our work has yielded a promising platform, and we are actively seeking co-development partners.
When Fluid Management Matters
The world of fluid management is incredibly complex. It takes specialized equipment, deep multi-disciplinary knowledge, and an appetite for difficult challenges. Fortunately, we've built our expertise over many years, invested in key technological capabilities, and have a reputation for stepping up to projects that our competitors won't touch. For medical fluid management device development, there is no better team than Benchmark Almelo. To dive even deeper into our capabilities and get more insight into our body of work across this medical subsector, we invite you to visit our new Benchmark Centers of Excellence for Fluid Management page.