How to rapidly field COTS technology into battlefield environments cost effectively
"Ruggedization" – what does that mean?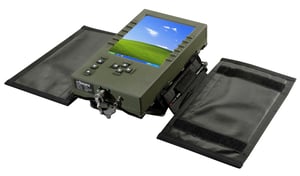 Envision a toaster that works underwater, a radio that works after a lightning strike or mobile phone that's fully operational at -40 degrees.
Ruggedization is a term used to define making things work in an environment they were not designed for. Our customers need their products to survive in extreme environments (the South Pole, the Sahara Desert, and the Marianas Trench for example) and have few options: they can design a special purpose product from the ground up, or take components designed for benign environments and ruggedize them to withstand the elements.
Designing from the ground up is expensive and time consuming, and it doesn't have the luxury of using emerging technology from the commercial world. Ruggedizing using commercial off the shelf (COTS) components allows for the rapid fielding of new technology with minimal up-front development costs.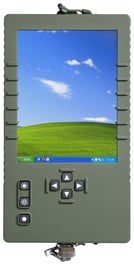 To give a real world example, Benchmark's Secure Technology subsidiary had a client that wanted super low size, weight and power requirements (SWaP) for a pilot-worn tablet computer, but they also needed it to have a high performance processor and a sunlight readable display. The requirements did not allow for an internal fan, since the tablet had to work in the dripping rain (so no holes in the chassis).
Some of the other limiting requirements included: the COTS system-on-module (SOM) and the LCD screen needed a heater to work at low temperature, which conflicted with the necessary heat sink to cool it at the required high operational temperature (heater BTUs went out the heat sink, sigh). Oh, and the pilot had to wear the beast on his leg, so we had to add an insulator over a portion of tablet that wasn't glass, and the heat had to go somewhere…
Meeting all of these requirements flew in the face of the capabilities that are needed: high performance computers and displays that are inexpensive, small footprint and consume little power.
Benchmark has a long history of ruggedizing COTS components to create products that support the rapid fielding of capabilities for both military and industrial environments. These products need to work in places that are dirty, muddy, salty, hot, cold, dry, humid, submerged, at high altitude, bombarded with electromagnetic energy, subject to high vibration and shocks, susceptible to lightning strikes, surrounded by combustibles and take gunfire. In a typical day, the products can be dropped, stepped on, run over, kicked, thrown, dragged and dunked.
To learn more about how Benchmark and Secure Technology go about ruggedizing COTS equipment for rapid fielding into rough environments, check out my in-depth follow-up blog post next month.