The Benchmark Engineering Profile is an ongoing blog feature highlighting the engineering teams located around the world. Tune in every month to read the next installment in the series. This month features the engineering team in Penang, Malaysia. Next up: Santa Ana
Benchmark's campus in Penang, Malaysia is an important hub for the company's global operations. It is comprised of two facilities – one focused on electronics manufacturing services (EMS) and the other focused on mechanical and precision machining. Benchmark Penang also houses one of Benchmark's Design Centers of Innovation, a team of experienced engineers that provides a wide range of design services for customers around the world. This unique vertical integration for electro-mechanical device design and manufacturing makes Penang a one-stop-shop from design and engineering to manufacturing and system integration.
A Look at Our Capabilities
The team located here in Benchmark's Asia Design Center (ADC) is made up of a diverse and talented set of engineers and program managers with a wide range of skills, including electrical engineering, printed circuit board (PCB) layout, embedded software development, field-programmable gate array (FPGA) design, application-specific integrated circuit (ASIC) design, component engineering analysis, DFX analysis and test development. Penang excels in solutions for complex industrial, medical technologies, and computing and data center markets. Our team adheres to key quality and regulatory certifications and compliance for these industries, including ISO 9001:2015, IEC60601-1 to 11, IEC160079-11, ATEX Class IIa, FCC, UL, CE, and CSA.
In addition to general engineering capabilities, Penang has some unique expertise within the global Benchmark engineering teams. In the development of technology used in hazardous environments, Intrinsic Safety (IS) design principles are required for printed circuited board assemblies (PCBAs) for them to operate safely and reliably. Our team has the capabilities and experience with IS design including Explosion Proof (XP) protection concepts. The Penang team also holds some of our best expertise in software design in open-source operating systems like the Native Linux Kernel, Linux Ubuntu, and Fedora, as well as proprietary real-time operating systems (RTOS) like QNX, ARMbed, Nucleus, and Micrium.
In addition to their unique skills, the Penang team touts extensive experience working with many types of processing platform designs including ARM, x86, FPGA and complex programmable logic devices (CPLD) backed by low-power and high performance single, dual and octa-cored systems-on-a-chip (SoC), memory processing units (MPU) and ASICs. This advanced knowledge allows the team to deliver hardware and software solutions for our customers manufacturing in our Asia facilities as well as elsewhere in the Benchmark network.
Additional capabilities and services we offer our customers here in Penang include:
Digital signal design
Component engineering and analysis
RF and wireless integration
Power delivery networks
EMI/EMC compliance
Agency testing certifications
And design for excellence methodologies
Proven Processes for Outstanding Results
Benchmark prides itself on being flexible to meet the evolving needs of our customers. This flexibility allows us to integrate our teams into any environment at any point in the product life-cycle and work collaboratively with our customers. The Penang engineering team practices the Joint Design Manufacturing (JDM) model, which defines many aspects of our team's relationship with customers. Our design engagement and project scope are tailored based on the customer's core competencies; the customer can focus on the core design technology and plays an active role participating in design reviews.
Like Benchmark's other global engineering teams, Penang utilizes our standard phased-gate development process that relies on regular design reviews and phase sign-offs that is compliant with many regulatory standards. Customer projects are also managed to Project Management Professional (PMP) standards with the team using industry-leading tools for design history file (DHF) management and product life-cycle management (PLM). These proven processes and project management practices allow the Penang team to deliver high-quality solutions to our customers on-time and on-budget.
Solving Complex Technology Challenges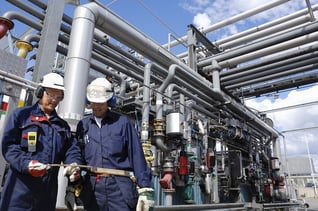 There is a reason the Asia Design Center has worked with some of the most recognized names in the world and this is showcased by their membership in several premier industry alliances. As members of the Intel IoT Solutions Alliance, Advantech Alliance, Texas Instruments Design Network, and the National Instruments Alliance, the team maintains working relationships with industry leaders. And from our combination of talent, capabilities, and proven processes, we can offer high-quality solutions to our customer's most complex technology challenges.
Here are just a few examples of our experience which illustrate our ability to innovate and help customers bring their technology to market:
Semiconductor Capital Equipment: One of our best success stories in Penang is our continued excellence with design and manufacturing support for semiconductor capital equipment. These are technologies focused on the fabrication of silicon wafers and other related processes in the manufacturing of electronics, including photo-lithography, deposition, ion implantation, etching, cleaning, and polishing. Our team has provided electrical hardware design, PCB layout, mechanical and software design, prototype development, design verification testing, manufacturing test development, and new product introduction support for customers in this market sector.
Smart Horticulture Lighting: In the agricultural market, there is a momentum towards high volume, greenhouse production for specialty crops. One of Benchmark's customers develops industry-leading, connected lighting solutions for greenhouses and other in-door gardening environments that rely on light spectrum control for modulating the growth, blooming, and fruiting of various crop plants. In our Penang facility, we helped the customer optimize its lighting module through the application of our capabilities in thermal analysis and simulation, and through fine-tuning the design of the module's heat sink.
Ruggedized Wireless Safety Monitor: In industrial environments, personal safety involves managing multiple risks simultaneously. Benchmark recently helped bring a ruggedized, wireless safety monitor design to life that will help manage these risks in a way that is compliant to industry standards like ATEX Class IIA. The ruggedized device detects hazardous environmental substances like harmful gases, geo-fencing, or other atmospheric hazards and triggers an audible, visual, and sensory alert for the user as necessary as well as notifying a remote control room operator. By providing electrical engineering and PCB layout design services, as well as mechanical 3D modeling of the PCBA component placement we were able to help make this solution a reality.
While the Penang engineering team utilizes technology, tools, and services in many unique ways to serve our customers, it's our people that truly make the Asia Design Center special. We are incredibly proud of our talented team here in Penang and stand by the high-quality solutions we produce.
To learn more about the Asia Design Center and how it can make your innovative ideas a reality, contact us.