The Benchmark Engineering Profile is an ongoing blog feature highlighting the engineering teams located around the world. Tune in every month to read the next installment in the series. This month features the engineering team in Tempe, Arizona. Next up: Penang, Malaysia.
Benchmark's global headquarters in Tempe, Arizona is the core of the company, housing the senior leadership team, shared services, and more all under one roof. Our global headquarters also includes our Tempe Design Center of Innovation, home of the Tempe engineering team.
The team is made up of extremely talented engineers serving the Next-Gen Communications and industrial markets focusing on connected devices through capabilities in electromechanical design, software development, and manufacturing test development. This diverse, full- service engineering team provides product development services from concept development and rapid prototyping all the way through to production. Working in conjunction with Benchmark's Design Centers of Innovation in Almelo, Netherlands and Rochester, Minnesota, the Tempe group is part a highly capable global engineering team.
An Extension of Your Team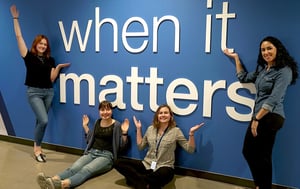 Here at Benchmark, one of our core values is collaboration and the Tempe design team is no different. We practice a joint design approach in order to function as an extension of our customer's technical team, working together to achieve their goals. Many customers are the leaders in their field but may lack expertise in other technologies required to make an entire product functional, reliable and easy to manufacture. The Tempe engineering team fills those gaps and gets innovative products to market fast.
Our team is flexible in how we work with customers, engaging at various points in the product life cycle and adapting our work process to most effectively meet our customer's needs. In addition to Benchmark's standard phase-gate approach, we employ the Agile software development process, which uses adaptive planning and rapid response to change to achieve time-to-market goals.
Technological Expertise
The Tempe team offers full-service engineering, touting expertise in mechanical, electrical, and software development. They offer complete hardware services from design to manufacturing, and have unique in-depth engineering knowledge in the low-power embedded and connected device space.
The team has software design capabilities in embedded and low power firmware, cloud infrastructure, wireless sensor networks, wireless ranging networks and front-end and web UI. With an emphasis in connected devices, the Tempe team is also extremely knowledgeable on delivering data from devices and sensor networks to the cloud.
Benchmark Tempe's Innovative Solutions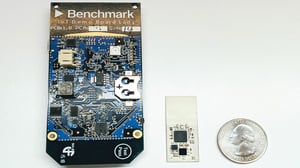 Our versatile technology platforms strengthen custom connected devices to give our customers the benefits of a custom solution in a fraction of the time. Whether our customer partners have a legacy device that will be connected for the first time or a new technology that relies on optimal connected architecture, our platforms provide a common starting point that gets products to market fast. Customizable technology platform examples include:
Ultra-precise location tracking platform
Precise location tracking within ~10cm, even in a GPS-denied environment
Embedded software for sensor fusion, data management, and data delivery to nearly any cloud platform
Easily customized to support size, weight and power (SWaP) and connectivity requirem

ents

Customizable with 300+ sensor types for location, environment, and condition sensing that is perfect for logistics, high-value inventory tracking, worker safety, regulatory reporting, and many other use cases
Powerful, versatile gateway platform
Powerful processing capability for edge computing applications, including edge analytics, and local control systems
Embedded Linux software platform for integration with other open-source code for maximum flexibility and functionality
Customizable with multiple connectivity options including LTE, Bluetooth, Wi-Fi, or others in a wide variety of combinations
Cloud agnostic platform for connectivity to nearly any public or private cloud
Secure with end-to-end data encryption
With our focus on solving complex problems, Benchmark is always redefining what's possible, and the Tempe engineering team is continually developing solutions to facilitate Industry 4.0.
A Proven Track Record
Benchmark's Tempe team excels in the rapid prototyping of designs and delivering robust and reliable solutions. One of our customers tasked the Tempe team with creating a railroad maintenance machine network that needed to:
Extend a previously existing network to allow bi-directional communication
Enable the customer to utilize modern Cloud/IoT technologies
Secure communication links on the gateway and between the gateway and the cloud
A product like this required physical design, software and user interface development, and knowledge of cloud connectivity and security protocols. The team delivered an integrated solution with an onboard LTE cellular network modem powered by a cloud service backend infrastructure. In addition, they designed a front-end website to allow remote machine maintenance and remote media administration.
For another customer working with high value assets, automating their logistics was the challenge at hand. Here, a fleet of depositories across an urban area needed an updated design to incorporate:
Automatic alerts to the logistics team that an asset is available for pickup
Durable design elements for sensor systems and batteries to endure the elements
A centralized logistics software platform, powered by a reliable cellular network service
To achieve these requirements, the Tempe team relied on their experience in ruggedization, connected device management, and electromechanical design. By creating a comprehensive, reliable solution, the team was able to save the customer significant time and resources in routine field courier dispatching.
Giving Back
The Tempe team enjoys giving back to the local engineering community in Arizona and helping encourage engineering students. They partner with Arizona State University's Ira A. Fulton Schools of Engineering to support senior student "capstone" projects, as well as mentoring future engineers. In addition, the team partners with Grand Canyon University's Labelle Labs to help further innovation in the robotics space.
To learn more about the Tempe engineering team and how they can make your innovative ideas a reality, contact us.