The Benchmark Nashua site's street address is 100 Innovative Way. While we didn't pick the location based on the street name, we think it's pretty fitting, given our focus on manufacturing the most innovative products. Nashua is in southern New Hampshire and Benchmark's key facility on the East Coast.
Benchmark Nashua manufactures high-quality complex printed circuit assemblies and fully integrated products for the aerospace, defense, medical, complex industrial, and next-gen communications markets. We're known for our New Product Introduction (NPI) expertise, which makes our location especially ideal for leading OEMs based on the East Coast and top American universities such as MIT and Harvard. We engage with customers at any stage of the product lifecycle, from those looking to manufacture fully developed designs to bright young minds with an idea drawn on a napkin.
Our Customized Approach
We pride ourselves on our flexibility in working with a customer, always seeking to find what works best for any given need, and tailor our services accordingly. We become an integrated part of the customer's team, often physically working side-by-side with them. Before COVID-19, you would often find several customers in the facility working together with our engineers on any given day.
One of the benefits of this approach is it allows us to quickly pivot and adapt to changing market demands. In early May 2020, the ZOLL Medical Corporation needed to increase ventilator production in the U.S. to help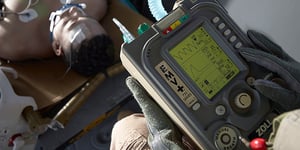 mitigate the critical supply shortage caused by the pandemic. The kickoff call took place in the first week of May, and by the first week of June, we were in full production, shipping over 700 ventilators a week.
Even though we knew it was a limited engagement, and the product was already thoroughly tested and developed, our engineers still took the time to regularly meet with the customer's team to improve the manufacturing process. ZOLL engineers were very appreciative and ended up implementing many of our suggestions.
Our global network of suppliers not only saves our customers money but gives us the ability to anticipate a customer's needs and act quickly to get the correct components and high-quality materials. This flexibility improves overall system performance, particularly when scaling production quickly.
Support At Every Stage
Benchmark specializes in applying our expertise early in the design stage and continuing through to volume manufacturing. Our services include product design via our corporate design centers, prototyping, test & automation, and supply chain management, to bring a quality product to mass production on time at an optimal price point.
We also work with customers seeking to control costs by assisting them with low-cost regional manufacturing logistics. We recently worked with a medical technology company that decided to shift manufacturing of a handheld ultrasound technology to our Thailand facility as demand rose and production volumes increased. We helped them complete the required documentation and supported them through the entire process.
Another example involved a communications customer developing a networking product. Some aspects of the product could be manufactured overseas, including circuit boards, while other components were more complex and better suited to our facility. Benchmark Nashua helped in pre-production and brought together all the elements needed for the final product assembly. New product introduction that involves a split manufacturing strategy is quite common for our customers.
We understand that every customer is different with a unique vision and strategy for their product. Benchmark works with every customer, not based on size or where they are in the design process, but where we can help them scale production and achieve market success.
Specializing in Robotics
Benchmark Nashua's robotics expertise is something that sets our team apart. We are regularly involved in the design of robots used in the aerospace and defense, complex industrial, medical, and other highly regulated markets where failure is not an option.
Robot designs can be incredibly complex, and attention to detail is paramount. The plans often have over 30 different circuit boards that require separate design, prototyping, testing, and assembly. With this many elements, testing becomes an extremely vital piece of the puzzle. Benchmark Nashua has advanced test and automation capabilities designed to improve functionality across the board.
We developed several different robots for one customer, where every component was designed, prototyped, tested, and manufactured at our facility. They came to us with early-stage design ideas, and we worked with them through the full process, scaling to volume production with multiple designs.
Focused on the Customer
At Benchmark, our focus is on the customer with dedicated teams comprised of project managers, supply chain analysts, product engineers, quality engineers, and test engineers. This gives our customers the highest quality work and best partnership experience. Everything is about the customer, and this shines through in each aspect of our work, management, and facility.
Interested in learning more? Check out the Benchmark Nashua location page.