From my first day at Benchmark, I could tell that there was something special about the company. The culture is supportive, encouraging and innovative, and its leaders and team members believe strongly in collaboration. One thing that makes the company so unique is its potential. Despite being a 40-year-old company, Benchmark continues to evolve and adapt, meeting the needs of an ever-changing world and producing new technology advancements.
The internship programs at Benchmark provide college students with real-world industry experience and allow them to take an innovative approach to their work. As an engineering major at GCU, I took the digital marketing internship position to expand my horizons. Working at Benchmark has allowed me to learn more about real applications of engineering, as well as the processes behind completing projects from a marketing and product development perspective.
Throughout my time at Benchmark, I have gained and improved upon many skills such as my ability to communicate, collaborate and manage my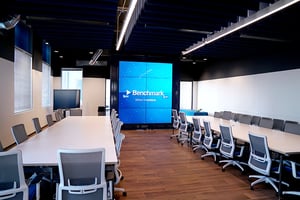 time. This internship has also provided me with the opportunity to learn new skills such as photoshop and HubSpot. While working on various projects, I have learned how to shift perspectives and solve a marketing problem while using engineering problem solving procedures. For example, while working in HubSpot to update the new website, I had to first define the problem, gather information on how to update the data and finally work to complete the update.
In addition, I had the opportunity to take part in helping the Internet of Things (IoT) team with their demo video of the real-time location sensor and tracker. This was an amazing opportunity because it was the first time that I was able to see what the engineering side of Benchmark had to offer. During the project, I was able to be a part of the demonstration of the product, as well as the post-production of the video. This opportunity combined my passion for both engineering and videography.
Another project that I enjoyed was the customization of our "Wow Wall". The Wow Wall is a video touchscreen that customers and visitors can use to learn more about Benchmark's capabilities. The innovation center within the Tempe Headquarters houses the "Wow Wall" and is our main meeting room where we host Lunch and Learns and executive presentations. I had the opportunity to customize and upload documents, videos, photos and URLs to the Wow Wall. While completing this project, I applied my problem-solving skills as an engineer, while determining the best way to market each sector and solution.
As an engineering student, I am very excited to see Benchmark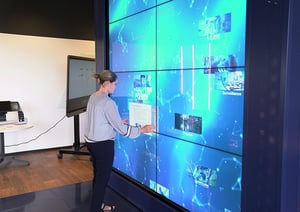 continue to grow and develop. During the short time I've been a part of the team, I have seen the continual progression of the company. From launching our new website, to relocating our Headquarters and celebrating our Grand Opening, Benchmark continues to expand their knowledge and develop new technology. I appreciate the time I spent with the company and the various teams I had the pleasure of working with them. I know this unique experience will benefit me as I pursue a career in engineering. As of the publication of this blog, I was accepted as an intern at Lark Engineering where I will be using my college degree to help the team with Mechanical Engineering.