The Company's State-of-the-Art LCP Innovation is Enabling Major Technological Advancements in Aerospace and Defense, Medical, and Advanced Computing & Communications Industries
PHOENIX, November 9, 2018 – Upholding its promise of bringing groundbreaking innovation to Arizona, Benchmark Electronics (NYSE:BHE) was named the Large Company Innovator of the Year by the Arizona Technology Council and Arizona Commerce Authority at the 2018 Governor's Celebration of Innovation (GCOI). The company was recognized for the development of manufacturing methods for advanced liquid crystal polymer (LCP) used in the miniaturization of printed circuit boards. Benchmark's LCP technology is enabling advances in aerospace and defense, next-gen communications designs, and more.
"Benchmark moved its headquarters to Arizona to bring our leadership together, leverage the growing technology community and focus on innovation," said Paul J. Tufano, president and CEO, Benchmark. "With the launch of our RF and high-speed design center in Phoenix and its groundbreaking design and manufacturing processes, we are honored to be recognized for our accomplishments. We're thankful to the Arizona Technology Council and our entire RF and High Speed Design Team for their outstanding contributions."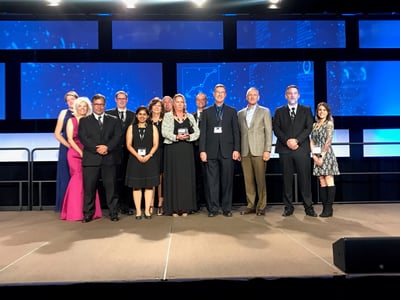 Through its wholly owned subsidiary Lark RF Technology, Benchmark is a leading designer and manufacturer of RF and high-speed solutions for aerospace and defense, medical, telecommunications and computing applications. The company is commercializing advanced manufacturing methods for the fabrication of microelectronic circuits at its RF High Speed Design Center of Innovation.
Using LCP and Benchmark's breakthrough processes, the company offers a revolutionary dimensional board space reduction average of 60 percent, a maximum board reduction of 1/10 the original size and performance up to 100 GHz. Benchmark is currently designing and building state-of-the-art LCP printed circuit boards for several Fortune 500 international technology companies. This will be a key enabler for commercial products in the 30 to 100 GHz range for emerging requirements like 5G.
"Benchmark has been an outstanding addition to our business community," said Steven G Zylstra, president and CEO, Arizona Technology Council. "This recognition is well deserved as they continue to push innovation forward in our state. I look forward to seeing their contributions to technology in the years to come."
Benchmark broke ground in Tempe on its company headquarters in late 2017, and will celebrate the facility's grand opening in February 2019. The RF High Speed Design Center will also celebrate the grand opening of its new Phoenix location in Q1 2019. Benchmark is anticipating adding 500 new jobs to the greater Phoenix area over the next four years.
About Benchmark Electronics, Inc.
Benchmark is a worldwide provider of innovative product design, engineering services, technology solutions and advanced manufacturing services. From initial product concept to volume production, including direct order fulfillment and aftermarket services, Benchmark has been providing integrated services and solutions to original equipment manufacturers since 1979. Today, Benchmark proudly serves the following industries: aerospace and defense, medical technologies, complex industrials, test and instrumentation, next-gen communications, and high-performance computing. Benchmark's global operations network includes facilities in eight countries and common shares trade on the New York Stock Exchange under the symbol BHE.