The Benchmark Precision Technologies location in Penang, Malaysia, is not your average contract manufacturing partner. We offer more capabilities in one location than any other contract manufacturer (CM) in the region. At our Penang, Malaysia site, we specialize in producing complex top-level assemblies for some of the most demanding customers in the industrial, commercial aerospace, and semiconductor capital equipment industries. Raw material comes in one end of the factory, and complex mechatronic assemblies ship from the other end.
Deep Vertical Integration and On-Campus Capabilities
Benchmark Precision Technologies Penang specializes in the manufacture of close tolerance components and integration into complex top level assemblies, varying in size from small benchtop units to large footprints weighing in at five tons.
Implementing an outsourcing strategy with a CM can be fraught with challenges. One of the significant challenges is to do so without expanding the supply chain to unmanageable levels. Benchmark Penang offers the ability to implement an outsourcing strategy as a Tier 1 CM that streamlines the supply chain into a single location. Instead of multiple suppliers across commodities, we perform these processes in-house, eliminating many of the challenges that come with an outsourcing strategy.
Our innovative and high-quality services include:
Precision Machining

Medium format 5-axis

Large format horizontal

Large format structura

l

Precision Sheet Metal and Frame Fabrication

Certified welding programs

Fiber laser cutting

Robotic Welding

3D tube laser (Q4 2020)

Large format CMM inspection

Powder coat

Assembly and test in ISO 6, ISO 7, and ISO 8 clean rooms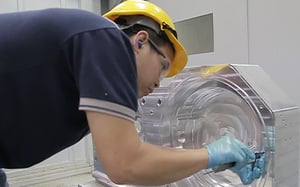 In addition to manufacturing, we offer full-service engineering services, including design for excellence (DFX) practices and process capabilities. Whether we're building components, sub-assemblies, full modules, and top-level assemblies, or testing them, our team is well equipped and capable of managing complex projects. We excel in unique and challenging environments where others struggle and we continually invest in industry-leading technologies to bring additional value to our customers consistently.

Benchmark Precision Technologies Penang also holds critical certifications and standards, such as:
Collaboration, Innovation, and Faster Time to Market
With Benchmark, you're not just a customer, you're a partner, and we foster a truly collaborative relationship. We work with our customers across the complete product lifecycle, from concept to supply chain and delivery.

A real-world example of this involved a customer that needed to re-source a vital component used to cool equipment in their manufacturing process. The customer had existing units but did not possess any other technical data. Our Penang team performed a deep dive with the customer. We discovered several components near end of life (EOL), or with design for excellence (DFX), and design for manufacturing (DFM) issues that needed to be resolved. Working closely with the customer, the team re-designed the unit to maintain functionality and interchangeability, eliminate component issues, simplify the manufacturing processes, and implement lean manufacturing methods. These efforts, coupled with the utilization of Benchmark Penang's extensive vertically integrated capabilities, translated to a significantly improved supply chain, delivery, and cost to the customer.
Continuous Improvement Culture
Benchmark Precision Technologies Penang has a strong Lean Six Sigma culture. Our continuous improvement culture translates to lower costs to the customer through realized process improvements and increased quality.

Our facility has a designated Lean champion on staff, and our employee base has a robust Lean Sigma background. We value everyone's contributions, and employees are empowered to act, which results in opportunities for each employee to grow and succeed. We've also implemented several recognition programs to honor our employees' hard work and dedication to customer wins. These programs include team member spot award recognition and peer-to-peer recognition.
Uplifting our Employees and Local Communities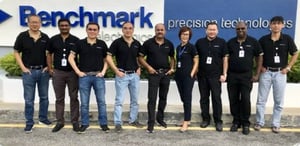 Benchmark Precision Technologies Penang recognizes the contributions our employees make to the site and the community's success. Our team works hard to support our customers, uplift the local economy and give back to those in need. We've developed many programs to directly fuel the economy, including utilizing local suppliers whenever possible, sponsoring local industry events, and encouraging staff participation.

Community engagement is one of the key pillars of Benchmark Precision Technologies Penang's corporate social responsibility (CSR). Past community involvement includes visits to orphanages and old folks' homes during festive seasons, computer donation to schools, and "back-to-school assistance for children from underprivileged families. We also organized a beach cleanup as part of the environmental preservation initiative.

We enjoy giving back to the community through donations and volunteerism, showing our appreciation to the committed frontline individuals working hard against the spread and infection of COVID-19 in the community. To care for communities in need, we donated hand-sanitizer stands to schools when the new term begins in 2021

While the Benchmark Precision Technologies team utilizes technology, tools, and services in many unique ways to serve our customers, it's our people that truly make us unique. We're incredibly proud of our talented team here and stand by the high-quality solutions we produce.

Interested in learning more about Benchmark Precision Technologies and the talent, equipment, processes, and certifications we have to go the extra mile and solve your most complex design and manufacturing challenges? Contact Us Today.