Failures often promote success. Such is the way of the engineering teams in the failure analysis laboratories at Benchmark. These comprehensive laboratories are dedicated to studying actual and potential failure mechanisms for electronic products. Using an array of test instruments, test chambers, and measurements, these failure analysis labs can determine just what will cause a failure and why. Even better, they can find what needs to be done to avoid the failure and provide a roadmap for design and manufacturing process improvements to create products that will last longer under the most difficult operating conditions.
How do they do it? They start with the right people: knowledgeable forensic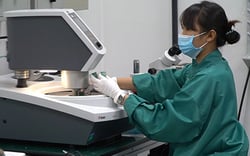 engineers and scientists experienced in the ways of failure (and success). They also have the right tools and advanced instruments that can gauge electrical, mechanical, and thermo-mechanical performance. These engineers are surrounded by the right accessories, such as test probes and chambers that make it possible to dig deep into an electrical/mechanical design for the operating and environmental conditions that might cause a failure. They can perform failure analysis on single components or entire systems using test laboratories dedicated to studying materials, components, mechanical effects, reliability, and packaging analysis.
MATERIALS MATTER
An electronic prototype or an existing design due for an upgrade can be subjected to many different processes and measurements searching for failure mechanisms. For example, in the Materials Analysis Lab, a printed circuit board (PCB) is characterized for the qualities of its substrate materials and the manufacturing processes that have contributed to its assembly. Here, engineers can determine the quality and content of conductive metals such as nickel and gold-plated copper, along with the reliability of solder joints and how well they conform to lead-free RoHS standards.
Dielectric materials are checked for essential qualities, such as the coefficient of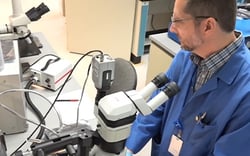 thermal expansion (CTE) and glass transition temperature, which can be compared to the material suppliers' datasheets for possible sources of problems. The Materials Analysis Lab looks for issues such as surface contamination, warpage, and perhaps most importantly, materials that are not what they claim. Counterfeit materials may have slipped into a manufacturing process and fall seriously short in critical material performance parameters. The Materials/Component Analysis Labs can even proactively provide input into suitable material options for the application at design time.
MECHANICAL INTEGRITY
For additional failure analysis data on the quality of a PCB assembly (PCBA), the Mechanical Analysis Lab explores the durability of attachments and interconnections on a PCBA with various pull tests, shear tests, and wire pull tests. This Lab can determine how much contact pressure can be safely endured by a PCBA and its components, including surface hardness and scratch-resistance of different types of packaged and chip components. Mechanical strain analysis can evaluate how well components are attached to a board and the durability and reliability of solder joints and different types of interconnections.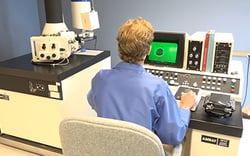 Using tools and test instruments like the Materials Analysis Lab, the Components Analysis Lab studies the effects of thermal shock/thermal cycling on component expansion and contraction and whether any component warpage due to thermal effects could lead to PCBA failures. Although active components such as amplifiers are most often associated with damage due to thermal effects, passive components are subject to thermal or flexural cracks and damage. All types of components, both die and packaged varieties, are examined for possible contributions to PCBA failures in the Components Analysis Lab. The Lab is fully equipped to check all components for possible damage from electrical overstress (EOS) and electrostatic discharge (ESD) effects and, most importantly, detect and determine when counterfeit components might be the source of an electronic circuit or system failure.
Electronic failures are often intertwined with the operating conditions and environment of an electronic design. The Reliability Analysis Lab team can duplicate normal environmental operating conditions for temperature and humidity to estimate the operating lifetime for an electronic product under those conditions with appropriate Reliability Statistical Analysis. The Lab can also perform accelerated thermal cycling and rapid temperature changes—thermal shock—to search for weak spots in an electronic design. Naval and maritime circuit and system users will appreciate the capability to perform testing to chart the effects of seawater corrosion.
Designers and manufacturers of products with time-based warranties will benefit from the Reliability Analysis Lab's capabilities to perform product in-field lifetime predictions under a wide range of operating conditions. The Box Build Packaging Analysis Lab is also available for exploring whether product packaging had anything to do with an electronic failure. Packaged products can be subjected to mechanical shock tests, the force and pressure of excessive stack-up packing, the shock and vibration of transportation, and the effects of mishandling.
LEARNING FROM FAILURE
Of course, finding a failure in an electronic circuit or system is only helpful if you can prevent it in the future. Our engineering and production teams, work with customers, apply the insights gained in the failure analysis laboratories in design and production. The laboratories have the experience and the tools to verify that an electronic design will perform as expected. They can also make suggestions, such as using a different circuit substrate material, that can improve performance without significantly impacting the economics of the design.
Reliability testing and suggested design modifications from the failure analysis teams based on component availability may also be the keys to improving production yields and speeding time to market. By partnering with the failure analysis teams, design and production engineers can develop engineering and production best practices that result in timely, efficient, and practical product developments with less wasted time and materials.
HOW DOES THE FAILURE ANALYSIS LAB HELP CUSTOMERS?
Generally speaking, EMS companies are good at following customer instructions. Still, when problems arise—poor yields, RF detuning, etc.—most EMS providers present the problem to the customer for their action. Benchmark has the data collection and analysis tools, as well as the expertise to diagnose the problem, propose solutions, and work with you to identify and implement the best solution. This gets production back on track quickly with high-yield production.
No matter which of our global locations manufactures your product, the failure analysis teams are ready to serve, which means Benchmark is uniquely suited to produce high complexity products at scale. All of our sites leverage best-in-class practices and systems, ensuring precise manufacturing processes are continuously refined and improved with the help of the failure analysis labs.
Interested in learning more about Benchmark's failure analysis laboratories and how they can improve your products' performance, quality, and reliability?