Benchmark Welcomes 1,500 Law Enforcement Professionals to Our Hometown of Phoenix, AZ
Benchmark was proud to welcome more than 1,500 law enforcement professionals to our hometown this week for the National Homeland Security Conference. The conference provides an opportunity for national security professionals at the federal, state, local, territorial and tribal levels to discuss best practices and strategy. Topics ranged from federal grant management to disaster recovery and counterterrorism to public health. In our discussions with attendees, we heard over and over that coordination across law enforcement agencies is better now than it has ever been and they feel ready to deal with new, complex threats in a collaborative manner.
Federal grant programs are growing and local tax revenue increasing after years of tight budgets during the great recession. However, hiring and staffing continues to be a major problem across law enforcement. While increased recruiting and efforts to interest young people in law enforcement are underway in many locations, at the Benchmark expo booth we had several discussions about using technology to stretch the capabilities of a few officers or agents to respond to a large-scale incident. Despite increases in funding in many areas, law enforcement agencies can never be complacent due to ever evolving threats including increased cross-border crime and mass shootings. Luckily, federal programs such as Stonegarden, the State Homeland Security Program and Urban Area Security Initiative provide an opportunity to create breathing room in tight local and state law enforcement budgets and appropriately reimburse these agencies for time and resources spent on collaborative efforts. Stonegarden in particular has seen significant funding increases and expansion to include new geographic areas over the past two years in recognition of the need for collaborative efforts at all levels of law enforcement to address cross-border challenges.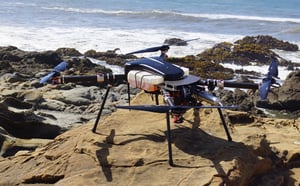 Drones were also a big topic of discussion in the Benchmark booth. Attendees from law enforcement organizations across the country described a wide variety of use policies in their local jurisdictions for drones based on budgets as well as privacy and safety concerns. Many attendees reported feeling that there are still many law enforcement challenges that drones could address better than current solutions. Some barriers are technical; many participants told us the 20-30 minute run-time was a limiting factor in their operations. The gas/electric hybrid drone we use in our Integrated Surveillance Solution grabbed a lot of attention, especially the five hour run-time.
Benchmark demonstrated our Integrated Surveillance Solution with the covert sled base, self-leveling mast, integrated radar and one-button deployed drone in the expo hall.
It was our first opportunity to discuss Benchmark's new camera integrations with a diverse array of law enforcement professionals, and we heard a lot of positive feedback regarding these cameras for surveillance of large areas where using dozens of cameras is impractical.
We spoke with attendees working to secure large areas of desert, mountain and coastal terrain who saw potential to use these cameras in fixed and mobile solutions. Benchmark's camera integrations include HD day cameras, a variety of IR camera options, laser illuminators and laser range finders, all in a military-grade casing for use in tough environments. With human recognition distances ranging from 3 miles to 8 miles depending on the model, these sensors were designed specifically to provide surveillance of large spaces. We were struck by how many law enforcement organizations were facing new challenges with criminal activity in waterways or wetlands, many of which were not well addressed by the situational awareness technology used in urban or even most remote areas.
The great thing about being an engineering company in the surveillance space is we have such a wide-range of technologies at our disposal and there's nothing we love more than working with a customer to develop a great, custom solution. We look forward to continuing these conversations!
Find more information about our Integrated Surveillance Solution here. Want to talk to Benchmark's Surveillance Solution team about your law enforcement situational awareness challenges?

Connect with us at surveillance@bench.com.