This year's Border Security Expo (March 26-27 in San Antonio) highlighted the key role technology plays in today's border security, as well as giving us a glimpse of how that role will expand in the future. Even as the discussion about how to best use physical barriers on the border has become one of the biggest debates in U.S. politics, it is clear that technological tools will play a big role in the future of border security. At Border Security Expo, we saw a renewed focus on mobility and versatile solutions to meet the ever-changing challenges on the border, ranging from vehicle mounted surveillance tools to new types of drones.
The Latest Border Tech Trends
The BSE exhibit hall featured some great new technology, and the number and variety of sensor types available have expanded dramatically. For users, balancing sensors that provide the capabilities a user needs with reasonable power consumption, ease of use and manageable maintenance is essential. The capabilities of the camera technologies at the show were impressive, and clearly will give border security professionals a new advantage in the field. We heard a lot of interest in counter UAS capabilities, which will be an interesting area to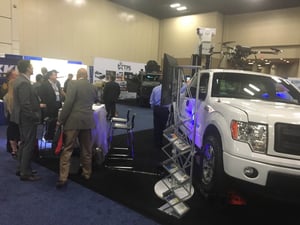 watch in the next few years.
Around the Benchmark Booth
At Benchmark's booth, attendees were most interested in learning about the one-button drone deploy capability that allows an agent to dispatch a drone to coordinates identified by other sensors on our Integrated Surveillance Solution. This allows for close-up surveillance of a distant target while giving agents time to focus on their primary mission rather than piloting a drone. There was also a lot of interest in our auto-leveling mast and true covert sled, which can go from totally unseen in the back of a Ford -150 to fully deployed and level in under two minutes. Overall, we heard a lot of positive feedback about the mix of capabilities and ease of use and maintenance available from our solution.
Travelling to ISC West April 10-12? Come see the Benchmark Surveillance Technology team at booth #4125 or request an appointment at events@bench.com. Subscribe to our blog or follow us on social media to get all the latest from Benchmark.