Benchmark recently concluded the first annual Benchmark Enterprise Excellence (BEX) Global Olympics. The program brought together our global operations teams to compete in a fun, Olympics-themed event aimed at integrating our Lean Sigma culture and continuous-improvement methodologies into their daily work.
The BEX Global Olympics kicked off with an opening ceremony, where the teams trained in quick changeover methodologies and tools such as Single Minute Exchange of Dies (SMED). This year's event focused on improving changeover processes within our manufacturing sites. Efficient changeovers improve on time delivery, reduce costs, and increase operational agility for our customers.
Results from the competition included significant improvement to the following key performance indicators (KPI's):
Changeover Cycle Time (CCT)
On Time Delivery (OTD)
Manufacturing Lead Time (MLT)
Units Produced Per Hour (UPPH)
Overall Equipment Effectiveness (OEE)

Manufacturing Velocity (MV)
Plan vs. Actual Attainment (PVA)
Machine Uptime (MU)
Reduced Scrap (SC)
Safety Total Case Incident Rate (TCIR)
This competition concluded with Jeff Benck, Benchmark's president and CEO, announcing the Gold, Silver, and Bronze medal recipients during a recent virtual "All Hands" employee meeting. Benchmark is proud to recognize each team for their contribution to the success of this year's event and would like to extend a special congratulations to this year's medal winners: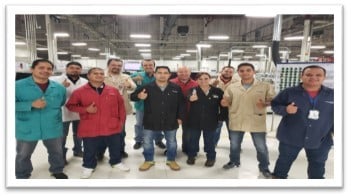 Gold Medal Recipient
Team photo taken before COVID-19 Protocols
Guadalajara, Mexico with their SMT Velocity Increase project - achieving 58% reduction in CCT, 117% PVA, 100% increase in UPPH, 72% Velocity Increase, all contributing to a decrease of 3 SMT lines and creating white space for growth.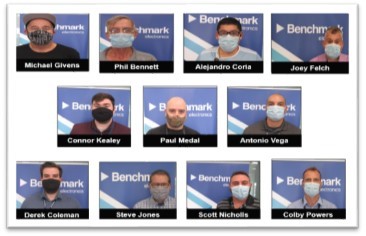 Silver Medal Recipient
Tempe, Arizona - Precision Technologies with their Seal Cap Process Changeover project – achieving 90% reduction in CCT.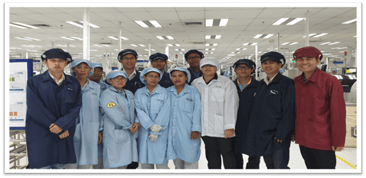 Bronze Medal Recipient
Team photo taken before COVID-19 Protocols
Korat, Thailand with their SMT Changeover project – achieving a 48% reduction in CCT.
More Than Medals
The competition also succeeded in developing 175 internal change agents from 17 cross-functional teams, representing 16 sites, spanning seven countries across North America, Europe, and Asia.
"The BEX Global Olympics is a reflection of Benchmark's commitment to our people, customers, and shareholders and our ongoing pursuit of operational excellence and perfection. Each team's enthusiasm, energy, and contribution made the Olympics an overwhelming success. The results of the team projects, as well as the competitive spirit, bring tremendous pride to everyone at Benchmark," said Mike Buseman, Executive Vice President of Benchmark's Global Operations Business.
The Road to 2021
Both the Senior and BEX Leadership Teams look forward to expanding next year's competition to include other teams across the organization as we travel along our continuous improvement journey while promoting inclusion and investing in the development of our people. It is with high anticipation that next year's Global Olympics will result in further world-class innovation, excitement, teamwork, and, of course, fun!!