The Benchmark Site Profile is an ongoing blog feature highlighting our manufacturing and engineering teams located around the world. This blog features the manufacturing team from Tijuana, Mexico.
SITE PROFILE – BENCHMARK TIJUANA

Benchmark's facility in Tijuana, Mexico is among our busiest sites in the world. We focus on manufacturing a variety of products for the industrial, telecommunications, aerospace and defense, and semiconductor capital equipment industries. Some of our advanced manufacturing capabilities include SMT, PCB assembly, RF tuning and test, system build and build to order, and test. In addition, we have outfitted the 198,000 sq. ft. facility—which opened in 2018 and has additional room for expansion based on customer need. It has the necessary infrastructure to handle an intensive workload, including (but not limited to) SMT lines, wave solder lines, and 3D automated optical inspection on all lines.
Our Tijuana team offers two key capabilities that set us apart from our competitors:
handling complex assemblies and accepting a high level of transfers from new customers who require additional expertise. These transferred projects often need to be reverse-engineered due to a lack of documentation. They also come with the added urgency of moving quickly to production.
One clear example of our ability to take on high-complexity, high-volume transfers involved a customer within the semiconductor capital equipment industry. When one of our customer's service provider of 15 years (handling high volumes of product) had to close down a facility; the abrupt closure hindered our customer's production schedule. As a result, Benchmark Tijuana was asked to take on this transfer in the middle of the pandemic. The program consisted of over 150 assemblies that needed to move quickly to production. Benchmark Tijuana not only excelled in meeting the customer's needs, but our performance helped the customer more than double the scope to meet the increasing demands of the semiconductor shortage at that time. In a show of appreciation for our efforts and expertise on this project, our customer honored our team with a supplier excellence award. To this day, we continue a strong relationship with this valued customer.
OUR PEOPLE
Our capabilities and equipment are only a fraction of our story. The real catalyst to our success is our outstanding team. Our tight-knit community does whatever it takes to serve our customers with high-quality solutions while facing the numerous challenges we see each day. We have critical expertise across our key markets and have implemented various training programs to continue leveling up and growing our team from within.

This interconnectedness is even visible in the organization of our factory floor. Our Customer Focus Teams—made up of our customer's program managers, supply chain professionals, and manufacturing engineers—have their desk space on the perimeter of the factory floor, conducive to seamless communication between the team interfacing with the customer and the team conducting manufacturing operations. If a problem arises, the entire team serving a customer knows about it immediately and can begin developing solutions to resolve the issue. Collaboration is constant and ongoing.

Not only is 100% of our team Six Sigma White Belt Certified, but we ensure that each of our employees is current with the latest quality training programs. We also offer Benchmark U—an internal online hub that provides opportunities for learning and development for our teams and sponsors with specific education programs for individuals looking to add skills and new expertise related to quality assurance, efficiency, and technical capabilities across industries.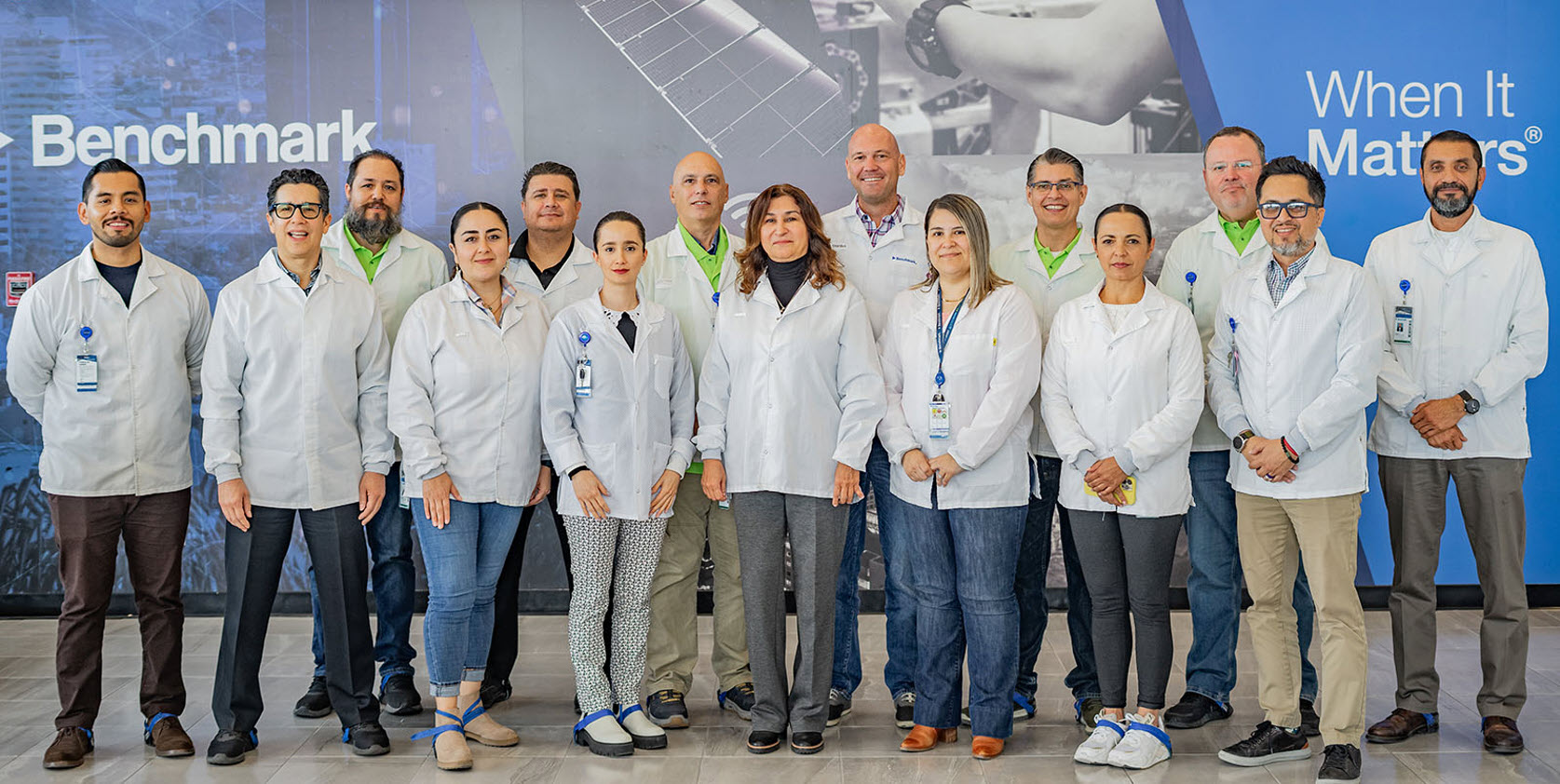 In addition, we value the opinion of every employee and operate as a bottom-up organization. We encourage employees of all levels to bring ideas directly to our management teams, which has led to key innovations in process improvement throughout the organization. Our site has been recognized with Benchmark's Operational Excellence Award, our annual internal competition designed to challenge every global Benchmark site to take steps to improve our quality and efficiency practices. This honor was due in great part to the combination of these programs, our culture-focused updates, our hard work to improve efficiency and quality assurance standards, and our training efforts.

Due to our impressive performance metrics, we have also earned the Horizon Award at Benchmark's 2022 IGNITE Conference (our annual global company conference). This prestigious award is judged on many factors, including financial results, year-on-year (YoY) growth, and waste reduction. Growth at our site has also exploded.
OUR COMMUNITY
The value we place on our employees and their families also extends to our wider community in Tijuana. It is important to us that Benchmark Tijuana remains a cornerstone of the lives of our community members. For this reason, we serve our community by contributing in many key areas. One such area is our involvement with future engineers and science, technology, engineering, and math (STEM) graduates by frequently focusing our hiring efforts on local universities and offering internship opportunities to students. We also host many community events run by—and open to—all employee volunteers. Some of the activities we have participated in include cleaning up our local beaches, restoring a community center, running a cancer foundation, and hosting food and blood drives.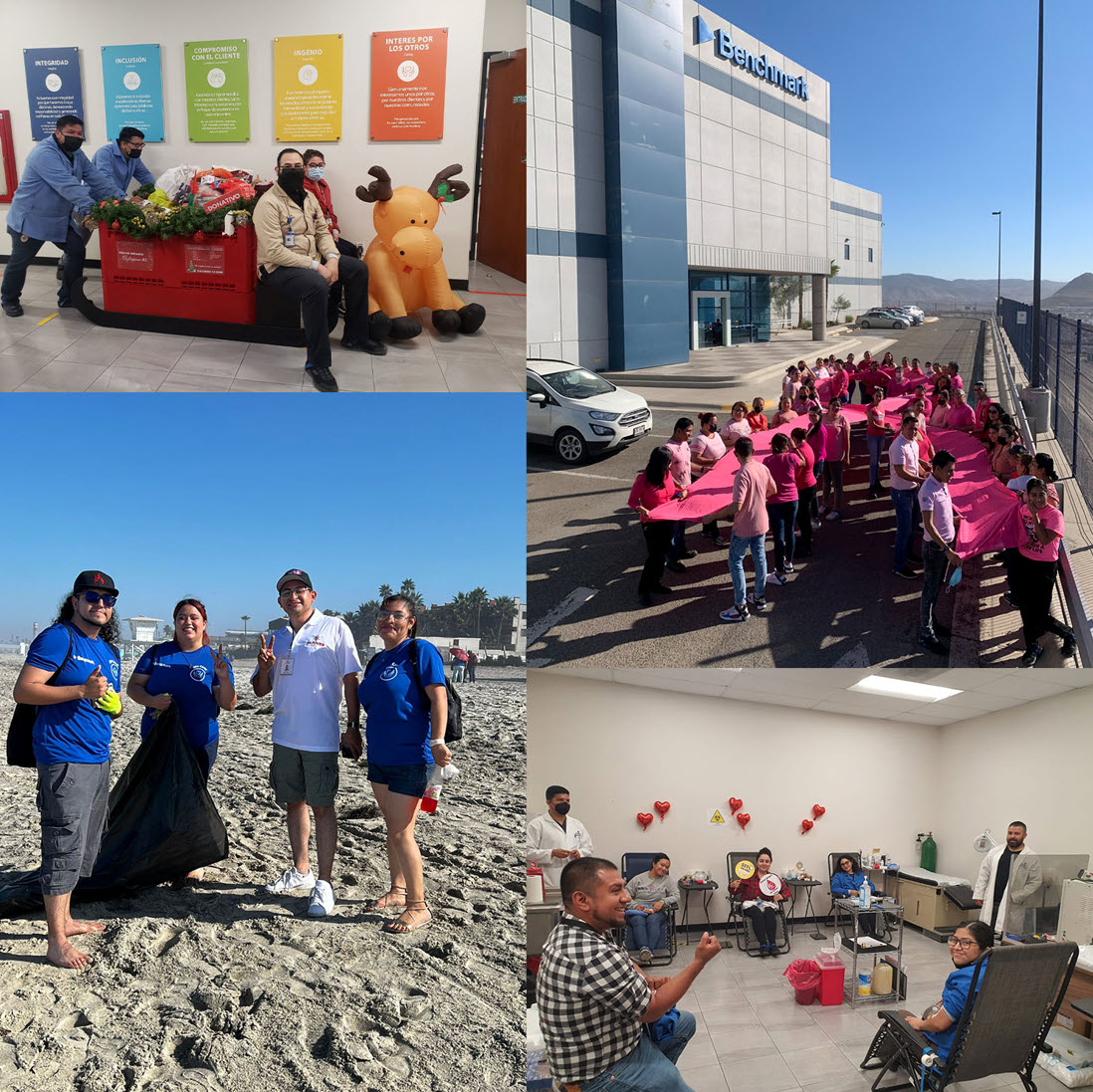 Another main focus for Benchmark Tijuana—as well as for the entire global Benchmark community—involves improving our Environmental, Sustainability, and Governance (ESG) and Sustainability practices. In 2021, we launched our first global ESG/Sustainability Report. We will continue to focus on these efforts to improve our environment across the world. ESG efforts at our site have included installing LED lighting upgrades and motion sensors throughout the facility to reduce energy waste. We also have a program to educate our staff and improve our recycling and waste reduction habits both at Benchmark and in our employees' homes. These initiatives greatly impact our local communities and help to create a safer environment for all the people in it.
Benchmark Tijuana is defined by the longevity of our team members, with a turnover rate well below industry average for the region. We are also defined by our continuous improvement of cultural awareness. The team has the ability and willingness to go above and beyond for our customers. We continue to invest in new technology and state-of-the-art equipment, as well as invest in the education and skills of our employees to better serve our customers and set up our team members for continued success. To learn more about Benchmark Tijuana, please visit our site page at https://www.bench.com/tijuana-mexico.