Benchmark Guadalajara is a high-volume facility specializing in PCB assembly and test, system build to order, and sensor integration. This site's competitive advantage is the offering we provide to U.S. customers looking at nearshore manufacturing with a range of options to meet their manufacturing needs and cost requirements. Guadalajara represents a cost-effective manufacturing solution with an incredibly skilled workforce closer to the U.S. and a more predictable tariff environment.
Our current portfolio includes customers from several business sectors, including aerospace, industrial, medical, and advanced computing & communications. Our team specializes in services such as:
Box Build Integration
Direct Order Fulfillment
Best-in-Class Processes and Performance
The "It" factor that the Guadalajara team brings to the table regarding both customer and team member engagement is operational excellence and the highest quality best-in-class practices, methods, and processes. Our team works hard to implement various tools, technologies, and talent, which allows us to thrive from an innovation and continuous growth standpoint.
One of those methods implemented is the Kaizen approach to manufacturing and personal development. This approach focuses on teamwork, personal discipline, improving morale, quality, and continuous improvement. It emphasizes a system where employees work together to achieve regular small improvements to various internal and external processes. The goal is to combine the company's collective talents to focus on consistently improving systems.
Branching off the Kaizen method are several employee engagement initiatives that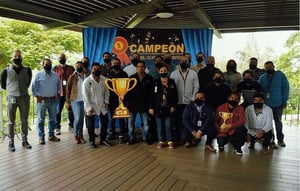 we've put in place. A few examples include the 6S Champions League, Golden Line Initiative, idea management processes, digital transformation, and Benchmark Accountability Management (BAM). Each of these "systems" focuses on creating a reference for excellence and measuring every team member's success with real-time data in reaching both customer and internal goals. It engages the team member by creating accountability while also rewarding them for bringing innovative ideas to the table that improve our work's quality and efficiency.
In addition, we've also refined our overall customer experience and engagement methods. Implementing a personalized customer experience process that begins the moment our customers touch down in the Guadalajara airport, all the way through their departure. This customer experience includes specialized plant tours, critical safety features implemented due to COVID-19, and a curated tour agenda to address specific needs.
These methods, practices, and processes are the foundations of Benchmark Guadalajara's current journey to refocus on culture and innovation. The close communication and collaboration from our cross-functional teams with each customer are vital factors. It allows us to be in sync and know the specific needs and challenges our customer and their products face. With this knowledge, our team can design and implement solutions that result in problem-solving, efficiency, yield increases, and continuous improvement initiatives.
Overcoming Obstacles
Using a collection of new ideas and best practices developed through our internal team member and customer engagement systems, we recently overcame significant challenges with one of our largest customers. This customer reported issues outside of our control from an inherited relationship through an acquisition. This challenge became an opportunity to strengthen the relationship when the customer needed us to ramp up production on a total of 94 different PCBAs from a low-cost geography solution. The project involved complex, manual oriented manufacturing methodologies. We overcame this challenge through various methods and were able to complete 500 complex PCBAs a week—the average had been 50. Today, the relationship with this customer has never been better.
Another example of overcoming a difficult obstacle arose during the pandemic. A new customer developed a portable X-Ray device to monitor patients suffering from COVID-19. They needed our team to stick to an extremely aggressive schedule on top of an already complex production process. This device's average production rate was typically about 400 units per year. In response to the heightened demand, our team came together to increase production by 3X, helping to deliver 400 devices in just three months.
These amazing results all occurred while operating with the new variables introduced in our current environment. There was no option to fail to meet or modify the extraordinarily tight timeline for the start of production. Not only did this involve working extra hours, but it also included a lot of hard work and flexibility from our supply chain team, who overcame issues with an extraordinarily constrained supply chain to fulfill the customer request.
Focus on Culture
The Guadalajara team has many technical specialties and high-end equipment, but what sets our team apart is our people and our culture. The team comprises incredibly talented engineers with a range of specialties, a commitment to teamwork and continuous improvement. We have developed expertise in the industrial, telecommunication, medical, and aerospace markets. Fine-tuning our processes in these difficult and highly regulated markets has carried over and allowed us to strengthen and adapt to any condition or market need.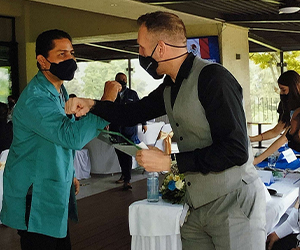 Having fun and fostering balance is instrumental to the culture at Guadalajara. Every other Friday, Benchmark Guadalajara provides free lunch to all employees, and every Friday, all the employees receive free snacks and soda.
We also introduced a BenchFit program to encourage healthy habits in a fun competition. The office also hosts special events for Christmas, New Year's, and other holidays and does events for Mother's Day and Father's Day. On Mother's Day, team members bring their family to participate in a special meal, and prizes are raffled off for moms.
Our team focuses on giving back to the community and making an impact. In 2019, our team delivered holiday meals to children in need, bagged lunches for schools, and donated food to nonprofit centers dedicated to homeless children and those who have HIV. Our facility has also volunteered to be a gathering center to distribute food during national emergencies such as earthquakes or hurricanes.
To learn more about Benchmark Guadalajara, please visit bench.com/guadalajara-mexico